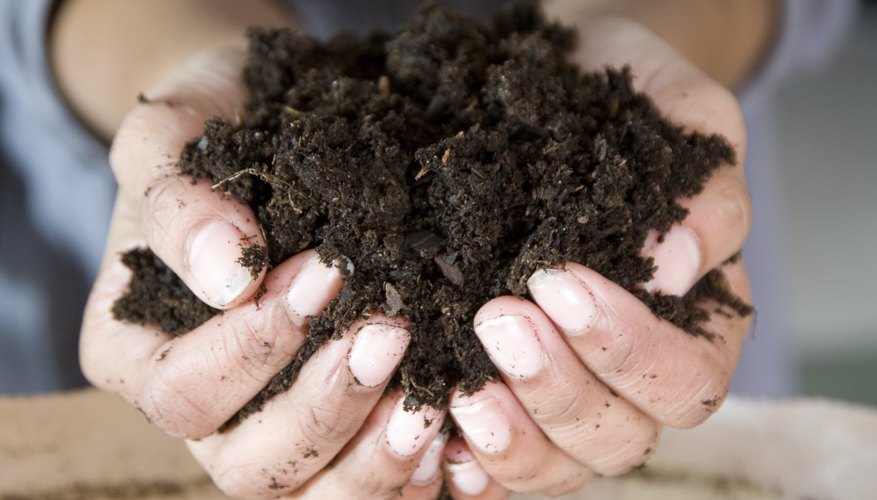 A successful garden starts with loose, fertile soil that allows plants to thrive. If your garden wasn't blessed with garden-ready soil, then adding rich soil may be necessary. Buying soil in bulk instead of in small amounts for a large garden saves you money and allows you to improve your garden soil quickly. Before you buy soil in bulk, however, check its source and quality to ensure you get what you need.
Do the Math
Before you decide to buy in bulk, calculate the amount of soil you need for your project. Bulk soil typically comes in cubic yards. To calculate your needs, multiply the length, width and depth of the area you'll fill with soil. If the area is 20 feet long, 10 feet wide and 1 foot deep, you will need 200 cubic feet of soil. Each cubic yard equals 27 cubic feet. So divide your number of cubic feet by 27. In this example, that equals roughly 7.4 cubic yards of soil. Knowing how much soil you need will help you compare costs among suppliers.
Pick Your Mix
When buying soil for a garden, find quality soil with the proper pH level and components. Vendors specializing in bulk soils often have different blends available based on the intended use. Look for a blend made especially for gardens. A mixture of topsoil and organic material, such as compost, is suitable for most gardens. The ideal soil pH depends on what you plan to plant. In general, a pH from 6.0 to 7.0 works well for most garden plants, according to an Organic Gardening website article.
Go to the Source
Once you know what kind of soil you want, decide where to get it. Home-improvement stores, garden centers and plant nurseries are possible sources for quality garden soil. Construction sites sometimes offer fill dirt, but it isn't likely the quality of soil you want for your plants. If you're not sure which vendor is best, check with other gardeners in your area to hear their reviews and recommendations. Visit a source to see the soil yourself before you commit to buy it. Soil quality can vary greatly. Look for loose soil without large clumps or debris in it.
Move It
Bulk soil is heavy. So transporting it to your site is a part of the buying process. Vendors that specialize in bulk soil typically offer delivery. Ask about delivery fees to calculate your total cost for soil. If you have access to a truck, then ask the vendor about the process for loading bulk soil in it. Some soil vendors offer assistance in loading soil while others require customers to shovel soil themselves to load it. Select a spot to deposit the soil when it arrives. The location should be close to your garden, but driving a vehicle across a lawn often leaves ruts. If the pile of soil is put on grass, then the resulting lack of sunlight to the grass can kill it if the soil stays too long. A paved area covered with a tarpaulin, or tarp, is a suitable place to keep the soil until you need it.