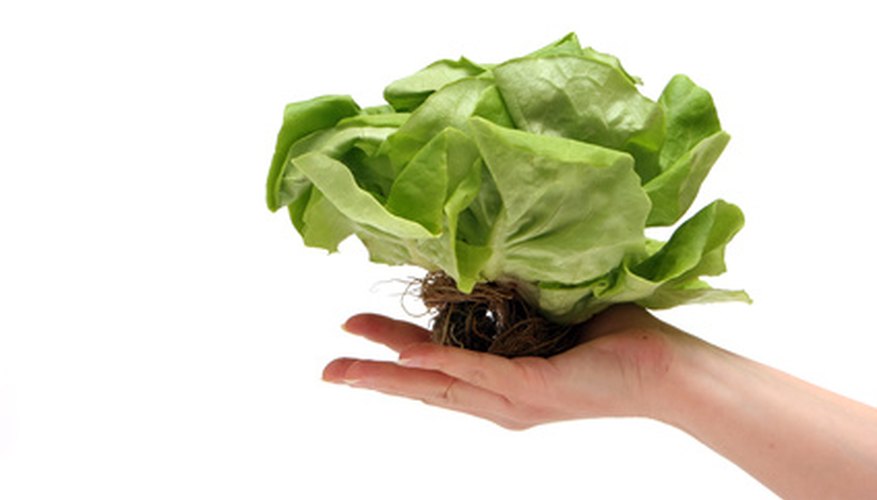 Growing your own vegetables is a healthy and inexpensive way to put food on the table--not to mention the fact that the taste of fresh vegetables can't be beat. Unfortunately, most vegetables need full sunlight in order to thrive. Still, while there are no vegetables that will grow well in full shade, there are a few that will grow in light or partial shade, according to Deborah L. Brown, a horticulturist for the University of Minnesota.
Leafy Greens
A good rule to keep in mind when selecting vegetables for shady gardens is to choose vegetables that are grown for their greens, not their fruit or roots. Carrots and tomatoes, for example, are grown for their roots and fruit respectively. These will not grow well in dim light. Leafy greens, however, will do well in light or partial shade. Such vegetables include cabbage, spinach, kale, mustard greens, beet greens and salad greens. The taste of the vegetables will remain the same, even if the plants are not as full as they would be if planted in full sunlight.
Herbs
There are many herbs that will grow in the shade. Not only will these herbs add a dash of fresh flavor to your recipes, but many are known to be beneficial to your health as well. Mint, coriander and parsley are all common, useful herbs that will thrive even in dim light, according to the editors of "This Old House" magazine. Garlic, that most useful of all herbs, will also grow in partial shade. Tarragon and thyme are two more herbs that can be grown in shady conditions.
Others
While it is true that several popular root vegetables should not be grown in the shade, there are a few exceptions to this rule. Beets and radishes, for example, can be grown in the darker corners of your garden. Other common vegetables that will thrive in light shade include cauliflower, broccoli, Brussels sprouts, and two that are not only favorites of children but are attractive plants as well--peas and beans.