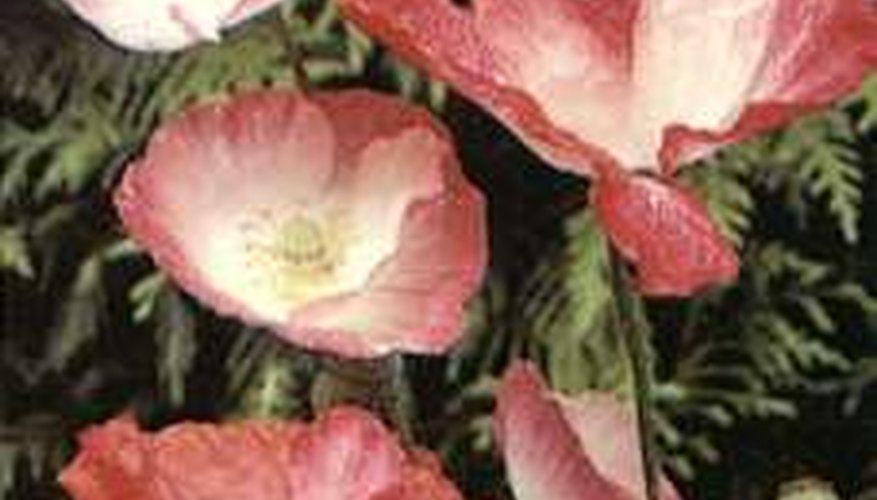 (Papaver rhoeas)
These annual poppies are among the easiest flowers to grow. These delightfully scented flowers come in brilliant shades of yellow, pink, orange and sometimes red. The two to three inch flowers come in single, semi-double, and double forms. The petals look like crinkled silk.
Poppy seeds are very tiny -- it takes 200,000 to make an ounce. If you plan to broadcast them, they should be sown thinly, and this is sometimes easier if you mix the seeds with sand. In colder zones (3-7) sprinkle the seeds outdoors in late fall. They don't need to be covered. They will germinate in the spring when the ground thaws. Seeds can also be sown in the spring. In warmer zones, seeds will germinate in fall and you'll have blossoms in late winter.
For beds and borders, Shirley poppies should be spaced 8-12 inches apart. They prefer full sun and a light, well-drained soil that is not too fertile.
Shirley Poppies make excellent cut flowers. Cut them just before they open, and sear the bottom of the stems over an open flame.
Type
annual
Propagation
seeds
Light
full sun, full sun
Flower Color
yellow, pink, orange, red
Bloom Time
late winter to summer
Height
1-1/2 to 2-1/2 feet
Width
1 foot
Soil Requirements
most well-drained soils
Zones
all
Uses
cutting bed, border, wildflower meadows