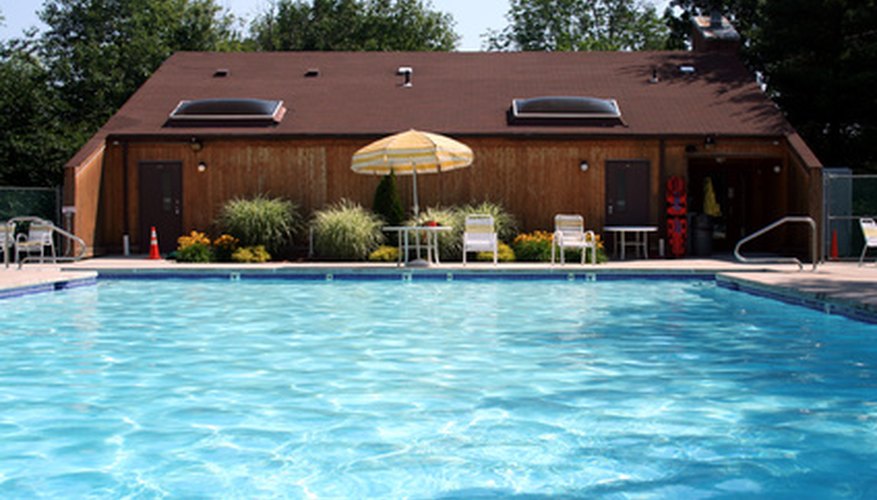 Pool skimmers, also known as scuppers, are standard equipment used with most types of pools. They are designed to catch debris in the pool before it sinks to the bottom, therefore saving time and effort in cleaning. There are some universal troubleshooting techniques to help when problems arise with your skimmer.
What is a Skimmer?
Pool skimmers are set into the concrete on the side of a pool. They consist of three major parts: the skimmer basket, the skimmer weir, and the skimmer lid. The skimmer basket collects the debris. The lid provides access to the basket. The skimmer weir is a floating gate or door that causes the water to flow into the skimmer faster, improving the skimmer's performance.
Troubleshooting Tips
There are a few basic problems that can arise with your pool skimmer. They include cracks on the side, separation from the pool walls, clogging, and pushing in of the skimmer's walls.
Cracks develop on the side of the skimmer from time to time. They can be caused by cold weather or soil movement. They can easily be fixed by applying pool putty to the cracks.
Sometimes the ground around a pool can shift and cause the skimmer to separate from the pool's wall. Once again, putty can be used to solve this problem. Sometimes this will have to be revisited from time to time to make sure the ground has not shifted again.
Skimmers can sometimes become clogged by large deposits of leaves or other debris. The best way to fix such a clog is using a Drain King connected to a garden hose. It must be inserted at the pool's pump. The Drain King will force water back towards the clogged skimmer, dislodging the clog. You may need to repeat this a couple of times. A plumber's snake is also useful for this function.
Sometimes the ground around a skimmer will press into the skimmer's sides, causing the weir to become compressed within the smaller space. The way to fix this problem is to remove the weir and sand it down or cut it so that it fits in the smaller space.