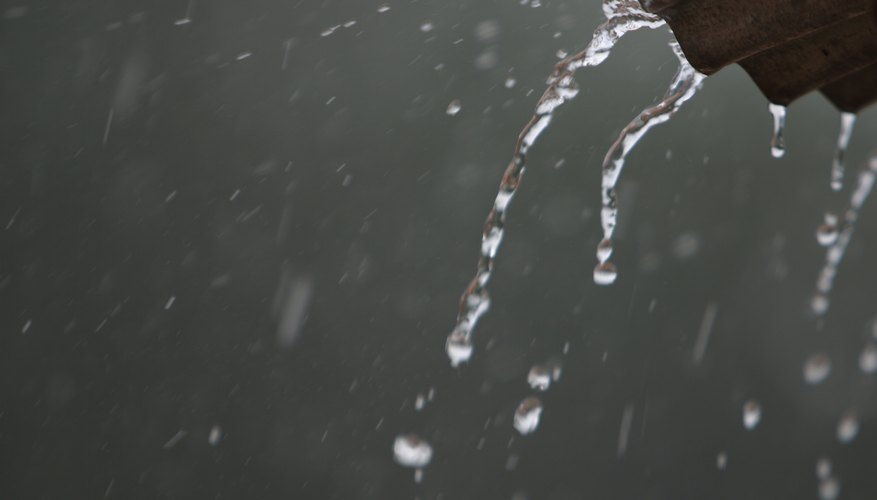 Collecting rainwater is not a new idea. Before the advent of municipal water systems a cistern was a standard feature at every home. The cistern was connected by pipes to the eve troughs and downspouts and refilled after every rain. In former times a rain barrel might be placed at the base of each downspout. The water in these barrels was often used for fighting fires. The same concept is being resurrected, with the water used for plant irrigation today.
Saving Rainwater
The simplest way to save rain water is to divert a downspout into a rain barrel. Rain barrels are available commercially at home and garden specialty shops. Homeowners can also recycle used barrels. Use a food grade barrel to avoid any contamination from the barrel's construction materials or previous contents. The rainwater in the barrel can be accessed by dipping the water from the top of the barrel or by a garden house attached to the base of the barrel.
The homeowner will need to create a system of drainage to carry the water that overflows from the barrel away from the home. An inch of rain falling on a 2,000 square foot house amounts to almost 1,250 gallons of water. Even with multiple downspouts equipped with 55-gallon rain barrels, most of the water falling on the roof will not be captured.
Homeowners and gardeners with larger water needs may want to invest in a cistern. Cisterns are usually underground tanks connected by pipes to the eve troughs and downspouts. The principle is similar to that of the rain barrel but done on a larger scale at a central location. Again, precautions for overflow conditions will need to be taken. The contents of the cistern are usually accessed by either a hand or electric pump.
Rainwater collected from a roof is usually only used for watering plants and other non-consumptive use. The system has too many possibilities for contamination--think about the birds roosting on the roof--to be used for human consumption without first being treated.
Some western states have laws concerning the legality of collecting rainwater. In addition, local zoning ordinances may come into play if a cistern is planned. Homeowners should confirm the legality of planned rainwater collection efforts before proceeding with construction.