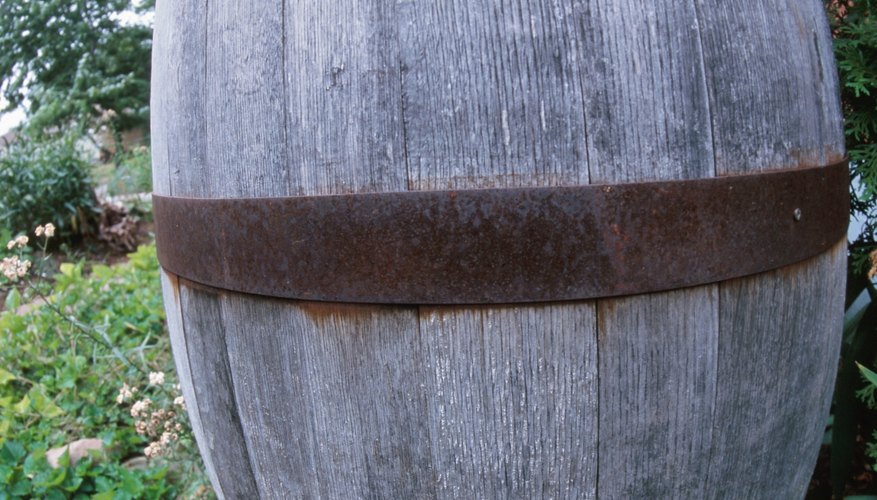 Water features in the garden, such as fountains and waterfalls, require not only water, but electricity to keep that water moving. An electric pump moves the water from the lower reservoir or pond up to the top of the water feature, where it can cascade down again. Prior to the use of electricity, hydraulics -- the pressure of water -- was used to power fountains from the plazas of Rome to English country houses. It can be used to supply water and movement to a small water feature in your backyard as well.
Stack four cinderblocks under a downspout at the corner of the house -- two side-by-side in one direction and two on top of the first pair pointed in the other direction, so the seams between the pairs of blocks are perpendicular. This is a platform for the rain barrel. For the best results in gravity feeding a water feature, the rain barrel should be sited higher than the water feature you want to feed. For every 2 1/2 feet that the barrel is above the point where water is released into the water feature, 1 pound of water pressure is created. The more pressure, the faster and steadier the movement of water from the barrel to the water feature.
Set the barrel on top of the cinderblocks and adjust the length of the downspout so it empties into the top of the rain barrel.
Attach the female end of the hose onto the spigot at the bottom of the rain barrel and run it down to the water feature -- located below the level of the rain barrel -- in the shortest possible course. The longer the hose, the more friction the water encounters, and the more the water pressure decreases.
Cut the hose to the proper length with a utility knife and attach a brass or plastic fitting appropriate for the inlet on the back of your water fixture. A pump-driven, circulating fountain may have an inlet to allow water lost through splashing or evaporation to be easily replenished. For a small pond with a pump and waterfall, the end of the hose can be hidden among plants or rocks and be designed to spill into the pond when the water supply gets low.
Fill the barrel with water to test the flow or wait for rain. For every 1 inch of rainwater on a 1,000-square-foot roof, up to 600 gallons of water could be collected.