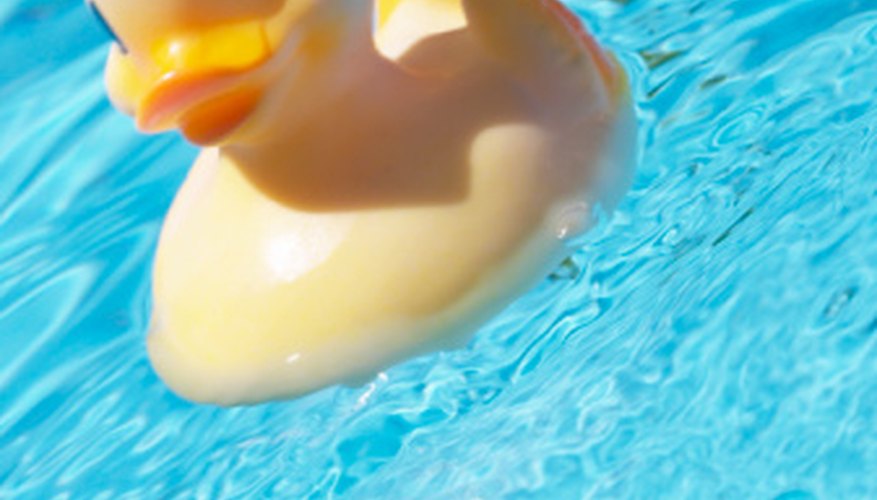 Hemera Technologies/AbleStock.com/Getty Images
A plastic pool is great for cooling off in summer. Without the expense of a more permanent structure, you can lie in the cool water to fend off the summer heat. If you buy an inflatable plastic pool, the most difficult part of its maintenance is blowing it up. You cannot inflate a plastic pool with lung power alone. To deliver such a large volume of air, it is best to use an air compressor. These inexpensive devices are easy to use and can be found at most home and garden or pool centers.
Assemble the air compressor according to the manufacturer's instructions and plug the unit into an outlet.
Spread the deflated pool out on a solid surface, as flat as possible with the air intake nozzle facing up.
Find the appropriate air hose attachment. The right one will be small enough to fit into the interior or over the exterior of the air intake valve.
Open the cap on the air intake nozzle (if present).
Insert the air compressor's hose into the pool's air intake nozzle.
Set the air compressor on the lowest pressure setting available.
Turn the compressor on to deliver air to the pool.
Stop the air compressor when the pool is inflated and the plastic is firm enough to resist medium pressure from your hand. Do not over-inflate the pool. Most air compressors will stop inflating when the pool is full of air. Others must be stopped manually (refer to your manual for details).
Things You Will Need
Air compressor and nozzle attachment
Tips
Before you leave the store with your rented or purchased air compressor, make sure that it has an air hose attachment suitable for filling your plastic inflatable pool.

Check your pool's box as well. It may contain the appropriate air hose attachment.