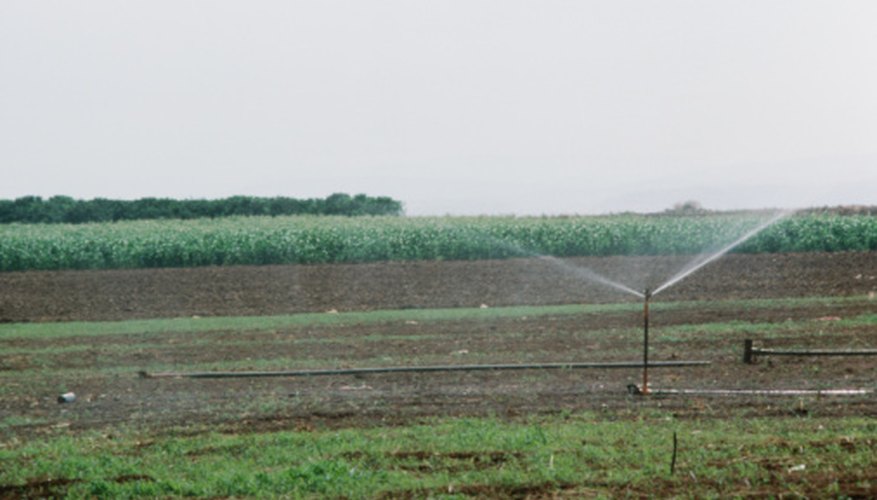 When you plant a garden or landscape, you must maintain a regular watering schedule in order to keep your plants healthy and blooming. If you don't want to worry about constant watering during the growing season, you can install a garden sprinkler system. Garden sprinkler systems water a yard space automatically and, when properly installed, provide the necessary amount of water to a garden, lawn or landscape.
Attach to a Faucet
In order to install a garden sprinkler system, you must have a water source. Generally, water sprinklers are connected to an outside faucet, which is left on for automatic watering. If you attach the garden sprinkler system hose to a faucet connected to your home's main water line, it is important to install a backflow preventer to keep water from the sprinkler system hose from running back into the home's water supply.
Make a Path
Before you can install the sprinklers themselves, you must create a place for the sprinklers and the lines that connect them in your landscape. Unless you want to have piping sitting on top of your lawn, you must dig trenches for the sprinkler system. These trenches need to lead out from the main water source, such as an outdoor faucet, to every location on your property that requires a sprinkler, including garden spaces and landscaped areas.
Run Lines
Once the trenches have been dug, you can begin to run lines for your sprinkler system. Sprinkler lines are made of PVC or some other type of waterproof piping and are laid to each location where you want to install a sprinkler. At the end of each length of piping, the sprinkler is connected to the final pipe in the line.
Running the Sprinkler System
The sprinkler system is controlled by a timer, which is wired to the main components of the system. The timer usually comes in a waterproof casing so it can be installed outdoors near the main faucet for the sprinkler line. If you don't mind the extra work, though, you can also run wiring through an exterior wall into a shed or a garage, allowing you to control the sprinkler system from indoors.