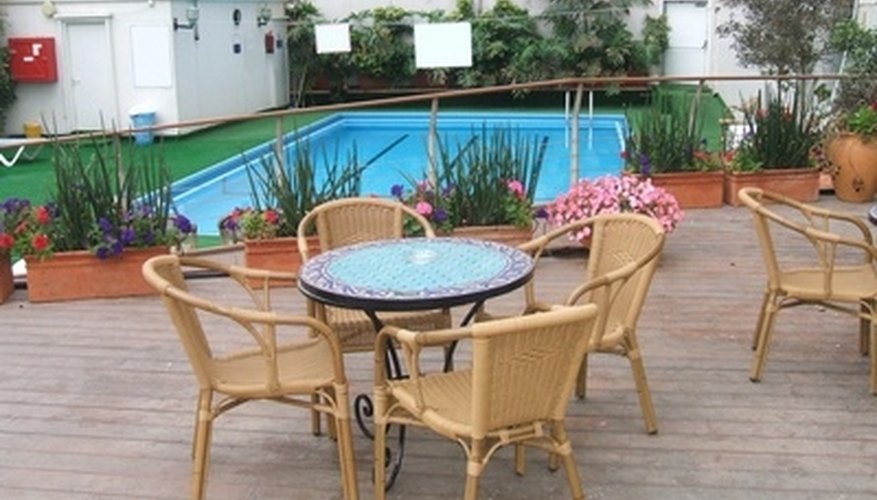 When installing a paved patio, the area is first excavated to a depth of 12 inches. A retaining wall is built following the outline of the finished patio. An 8-inch layer of coarse paving base material is laid down on top of geotextile fabric, and compacted level. A layer of sharp sand or 30A Slag Sand paver base material is then laid down and screeded with a slight fall-off to allow for proper drainage. The pavers or patio blocks and borders are then fitted onto the screeded layer before being compacted and finished with joint sand or cement.
Calculate the thickness of the paver base layer. The paver surface must be 3/8 to 5/8 inch higher than the required level prior to compacting. For example, when laying 1 3/4-inch-thick patio blocks, the level of the screeded sand must be 1 1/8 to 1 3/8 inches below the finished patio level. This will allow sufficient clearance for the patio blocks or pavers to be compacted down to the required level with a plate vibrator.
Set the finished height and slope of the paver base layer. Lay down lengths of 1 1/2-inch-diameter galvanized piping screed poles at 3-foot intervals along the width of the patio. Set the poles into a layer of base sand and carefully adjust the height and pitch so that the top surfaces of the screed poles match the required surface level of the finished screeded base layer.
Work in between two screed poles at a time. Fill the gaps between two poles with an even layer of sand. Place a straight 4-foot-by-6-inch-by-3/4-inch plank across the top of two poles at the start of the base layer. Move the plank with a side-to-side action while scraping the sand level with the surface of the poles and pushing excess sand backward with the plank. Keep the plank in full contact with the screed poles at all times.
Lift the screed poles carefully after the final screed. Fill the grooves left by the poles with sand. Use the back of a wide garden rake to level the filled sections and to fill in any footprints. The screeded base layer is now prepared for final paving.