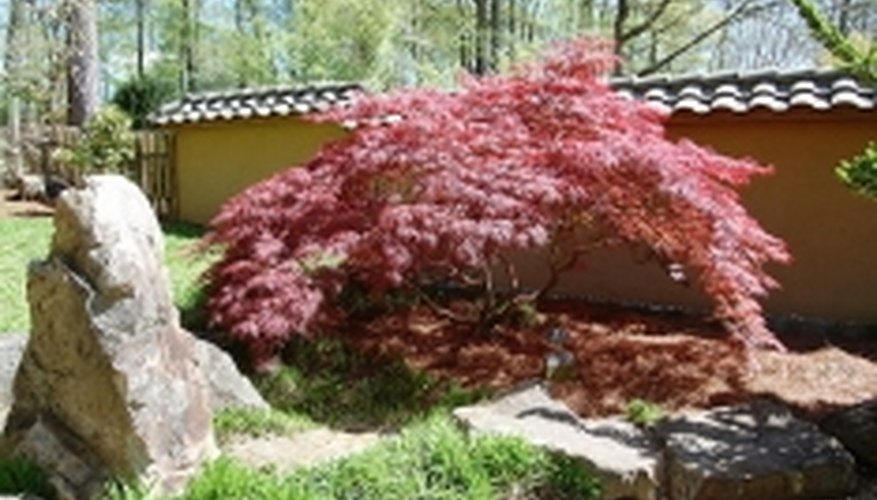 The Japanese red maple is a deciduous tree that is 25 to 30 feet tall, with a spread of 20 feet when fully mature. It's a popular shade tree and grows well in a yard with other flowers and trees. The Japanese maple blooms with small red flowers, signaling the arrival of spring. The leaves are a dark red to a deep purple color during the summer, turning bright red in the fall.
Choose a spot that gets full sun in the morning and shade in the afternoon and that provides protection from high winds. Soil should be rich, well-drained and can be slightly acidic with a pH of 6.5 to 7.
Dig a hole that is a little bigger than the rootball of the Japanese maple sapling and deep enough to set the entire rootball in the ground. The root collar, the top of the area where the roots join the trunk, should be even with the surface of the surrounding ground. If you are planting the maple sapling in heavy clay soil, make the hole shallow enough to allow the rootball to sit partially above the ground.
Place pine bark mulch around the tree after it is planted. The mulch should be 2 to 4 inches deep and 1 to 2 inches away from the trunk of the tree. This distance prevents the trunk of the Japanese red maple tree from disease and bugs. Mix heavy clay soil with a large amount of pine bark mulch. Use this to fill in the hole, mounding it up to the root collar mark on the trunk of the maple sapling.
Water your Japanese maple sapling at least once a week. Newly planted maples need a consistent amount of moisture in the soil while the roots set in. Reduce watering in the fall to get the best color. Water the maple tree in the early morning or evening during the summer months.
Fertilize the Japanese red maple tree only once, in early spring. Use a well-balanced shrub and tree fertilizer.
Stake your Japanese maple sapling if it begins to lean to the side. This may need to be done for a few years until the tree grows big enough to hold itself upright.
Prune your Japanese red maple with clean, sharp tools. Heavy pruning of the tree should be done during the winter before the tree buds swell. Begin pruning from the inside to the outside of the tree.