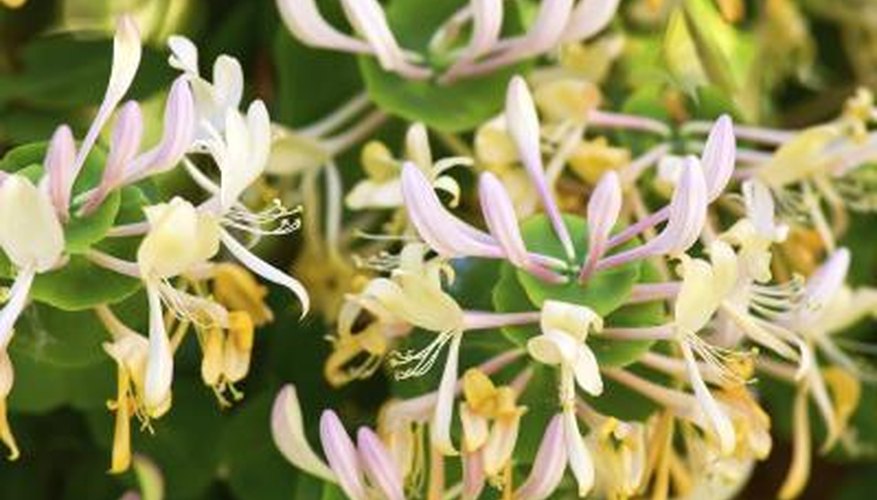 When invasive vines such as Japanese honeysuckle (Lonicera japonica), smilax (Smilax rotundifolia) and wild rose species, like multiflora rose (Rosa multiflora), invade your yard, they can be hard to get rid of by pulling or mowing. Use weedkillers formulated specifically for killing woody vines control these invaders by cutting back the vines, treating and in some cases re-treating. When using herbicides, only use the amount recommended on the label to prevent runoff that could pollute nearby streams and lakes, and protect yourself from injury by wearing eye protection, gloves, long sleeves and long pants.
Select an Herbicide
Kill smilax, honeysuckle and multiflora rose vines by treating them with an herbicide containing 1 percent glyphosate and 0.1 percent triclopyr. Glyphosate is a nonselective herbicide that kills the vine by traveling from the leaves to the roots, while triclopyr helps glyphosate penetrate waxy leaves and regulates plant growth, making it hard for vines to re-grow. Ready to use products containing a combination of these herbicides are available at home improvements stores, but if you can't find one use a product that contains 2.5 percent glyphosate as the active ingredient. Always read and follow the label's instructions.
Free Vines From Plants
Glyphosate kills any plant it touches, including those you want to keep. If the vine you wish to kill has climbed up a tree trunk, or twisted around your favorite shrubs, pull or cut it away from the tree or shrub before spraying it with herbicide. If grass is nearby, cover it with plastic sheeting, then unwind the vine from the tree or shrub and lay it on the plastic to treat it. The plastic will protect the grass from herbicide damage. Don't use cloth to protect the grass because herbicide can seep through it and injure the grass. If you can't remove the entire vine from shrubs, cut the vine 2 feet from the ground and lay it over on the plastic. When the vine remaining on the shrub dies, pull it off. When working with thorny smilax, which grows in U.S. Department of Agriculture plant hardiness zones 7 through 10, wear gloves to protect your hands.
Treat Properly
Treat smilax, honeysuckle or multiflora rose vines with an herbicide containing glyphosate and triclopyr when vines are actively growing, the temperature is above 60 degrees Fahrenheit, and rain is not expected for 24 hours. Increase the herbicides effectiveness by trimming long vines to 3 feet long. This makes it so the herbicide has less distance to travel to reach the roots. Apply the herbicide by thoroughly coating the tops and bottoms of all leaves and spraying stems. Only apply herbicide on a calm day to prevent the spray from being blown onto grass or nearby plants. If you spray vines laying on plastic sheeting use caution not to overshoot and spray the grass around the edges of the plastic. Leaves on the vines should turn yellow within a few days, and the vines should completely die in about four weeks.
Treat Again If Necessary
If you've followed the instructions on the herbicide label and the vines you've treated have not died after 30 days, or only partly died, then re-treat them. Spray honeysuckle, which grows in USDA zones 4 through 10, or multiflora rose, which grows in USDA zones 4 through 6 as soon as they reach 6 inches tall and have at least two leaves to carry the herbicide to the roots. Smilax can be re-treated in the same way.