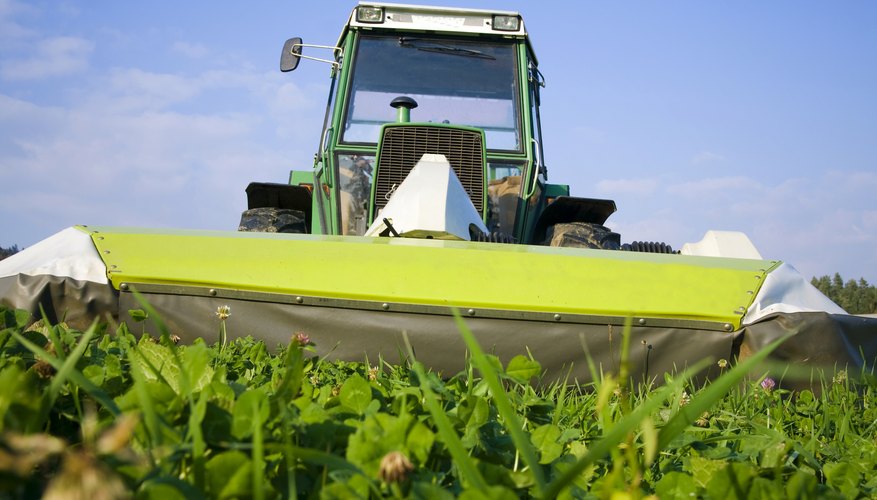 What Are the Advantages of Flail Mowers?
Unlike a standard rotary lawn mower, a flail mower cuts with a series of short knives mounted on a rotating shaft. That configuration allows the flail mower to cut easily through thick grass, weeds, vines and trees up to 4 inches in diameter, depending on the model, according to the Grounds Maintenance website. Flail mowers typically are mounted on tractors and used to mow large fields or maintain highway medians and berms. Smaller, self-propelled flail mower models are available, however, and are generally adequate for most homeowners.
Strength and Operation
The primary advantage of flail mowers is that they make it much easier to clear overgrown areas and maintain places where tough, thick weeds grow. Flail mowers handle wet plant materials much better than rotary mowers as well and are less likely to clog with cut vegetation. Because the cutting knives of flail mowers are mounted in a way that allows them to swing freely, flail mowers are much less likely than rotary mowers to throw stones and other debris. A flail blade that hits a rock or other solid material simply folds back from the object rather than lifting and throwing it.
How to Lock a Lawnmower
Position the mower in a location on a transport trailer or in a spot for parking as desired. Choose a location that is close to a pole, post or trailer corner that will provide a secure point for locking with a chain.
Feed an antitheft chain, such as a hex chain, through a hole in the wheel or around an axle of a riding mower or around the handle of a push mower.
Feed the chain around a secure post, pole or trailer corner and pull the two ends of the chain together.
Overlap a link on both ends of the chain.
Insert the hasp of a keyed padlock through the overlapped links. Push the hasp into the lock body securely.
Honda Vs. Toro Lawn Mowers
Safety
Both manufacturers offer features on their mowers that protect consumers during operation. Honda has a blade shut-off system that allows operators to separately turn off the blades while the engine remains running, to empty the mowing bag. Toro's blade override system protects consumers in a similar manner.
Walk-Behind Models
Honda offers some of the most powerful engines on the market. Models are available in push and self-propelled varieties and with side- or rear-discharge options. Custom features may be added to any model. Toro emphasizes the green aspect of its walk-behind models, including mulching capabilities and options for gas- or electric-powered engines. Models are also available in a variety of mowing widths.
Riding Mowers
Although Honda is known for its vehicles, the company doesn't manufacture riding lawn mowers. Toro has a number of models in its lineup, including three different zero-turn mowers designed specifically for homeowners. The company's larger lawn and garden tractors feature high horsepower for hauling and towing specialized attachments.
How to Find Walker Mowers For Sale
The first step is to think about how much money you're willing to spend. Walker mowers can differ greatly on price, considering whether they're new or old, and who is selling it. Make sure to keep in mind that shipping is pretty expensive for these large items.
The first place you should go search is eBay. If you can find an acceptable Walker mower for sale there, then there's no reason to see any other. Since individual users are the one's who sell on eBay, they generally sell for a cheaper price than larger businesses. Thus, if you have to search elsewhere, you'll likely be paying more.
If you can't find what you need on eBay, take a look at http://www.machinefinder.com/ww/en-US/machine/705369. They have a few different Walker mowers for sale. They may cost thousands of dollars, but for high quality mowers that's not an unfair price.
Make sure the shipping and handling options fit your needs. How much do you want to spend? What about signing at the door? How quickly do you need it at your house? Also, do you have fuel and a place to store it? These are all questions that need answering before you finally buy it.
How Did People Care for Lawns Before the Lawn Mower?
Gardens
Most landowners had gardens surrounding their homes. Land use included vegetable plots for food production.
Dirt and Gravel
Homeowners would allow their grounds to remain free of any growth. Patches of ground were used for storage or disposal sites for waste.
Animals
Grazing was a method used to keep grass and weeds controlled. Goats, cows, horses and other farm animals were allowed to use the land for food.
Manual Labor
Wealthier homeowners used scythes and rollers to control ground cover. Gardeners, caretakers and landscapers were hired to maintain large green plots around manor houses.
Who Makes Yardman Lawn Mowers?
Yard-Man lawn mowers are made by MTD Consumer Products, a global manufacturer with headquarters in Cleveland, Ohio. MTD Consumer Products, founded in 1932, manufactures Yard-Man brand power equipment including walk-behind mowers.
Walker Mower Tips
Where to Buy
Walker is a family-owned business, and its mowers are sold only in person by authorized dealers, so they can be a little difficult to find and buy. While these mowers aren't the most expensive on the market, they are not cheap, though they come with warranties and guarantees of repair from Walker. Buying a used Walker mower with an existing warranty could save you some money.
Yards for Walker Mowers
While Walker mowers are riding mowers, they are small and known for their maneuverability, which means they can be used on smaller front and back yards of homes, making them ideal for someone who doesn't want to spend a lot of time mowing his lawn. However, just because they are small doesn't mean they aren't powerful. The ease of driving and the ability to get where other mowers cannot makes it easier for the driver, allowing the yard to be cut more easily. These mowers can cut grass of 6 to 8 inches high effectively.
Avoiding Problems
A few problems with Walker mowers have been reported. Most of these concern used Walker mowers, usually when a blade is replaced with a non-Walker blade. These blades can become dull very quickly or jam within the mower, so it's important to buy on brand whenever you add or replace anything to the mower after market. Shocks and wheels should be paid attention to as well, as they will wear down over time and will need to be replaced.