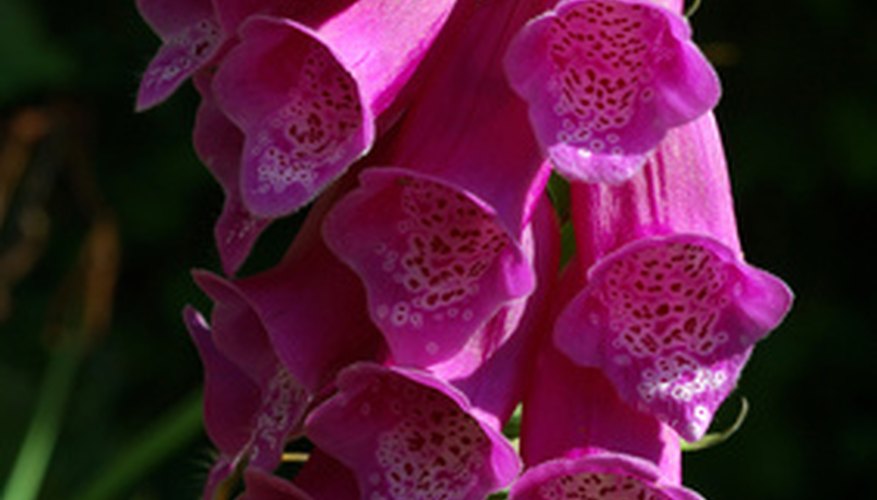 Gardeners pick and choose different colored flowers to turn a garden into a work of art. Purple flowers come in shades so pale they are almost pink up to deep dark hues. A garden composed of all purple flowers is far from monochromatic. Lighter shades also go well with dark-green evergreen plants. Dark purple flowers planted with white blossoms make both colors stand out more vividly. The options are only limited by the gardener's imagination.
Chinese Wisteria
Chinese wisteria (Wisteria sinensis) is a deciduous vine that climbs up tree trunks all the way to the canopy. The plant produces fragrant, purple-blue flowers growing in large drooping clusters and compound leaves composed of seven to 13 leaflets, each one about 3 inches long. The flowers are followed by velvety seed pods measuring 6 inches long. Chinese wisteria is hardy in USDA Zones 3 to 9. It likes full sun, partial or full shade and moist, well-drained soil.
Dense Blazing Star
Dense blazing star (Liatris spicata) is also known as marsh blazing star. It is a member of the aster family. The plant reaches 3 to 4 feet tall with grass-like leaves growing from the base of the plant. Rose-purple flowers grow in long clusters, with the flowers at the top being the first ones to open. Bloom time is July, August and September. Plant dense blazing star in full sun and moist soil. Hummingbirds and butterflies will come for the nectar. The plant is hardy in USDA Zones 3 to 9.
Purple Foxglove
Purple foxglove (Digitalis purpurea) is hardy in USDA Zones 3 to 9. The plant takes two years to develop. In the first year, the plant produces dark-green or white leaves 5 to 10 inches long in a rosette pattern at the base. The second year, the plant produces flower stalks that grow from 3 to 5 inches tall with smaller leaves. It has tube-shaped flowers that resemble the fingers of a glove and grow up to 2 inches long. The flowers bloom in late spring and early summer. They last about four weeks. All parts of the plant are poisonous if ingested. Plant these where children and pets do not have access. Foxglove is used to make the heart medication referred to as digitalis. Plant foxglove in partial shade and consistently moist soil.
Pale Purple Coneflower
Pale purple coneflower (Echinacea pallida) grows from 2 to 4 feet tall. The flowers resemble a daisy with petals that droop down instead of standing straight out from the center. They grow from 3 to 5 inches across. Leaves are lance shaped, covered in coarse hairs and grow from the base of the plant. The flowers bloom in May, June and July and attract both butterflies and bees. Plant pale purple coneflower in full sun and soil that is moist to dry. The plant is hardy in USDA Zones 3 to 10.