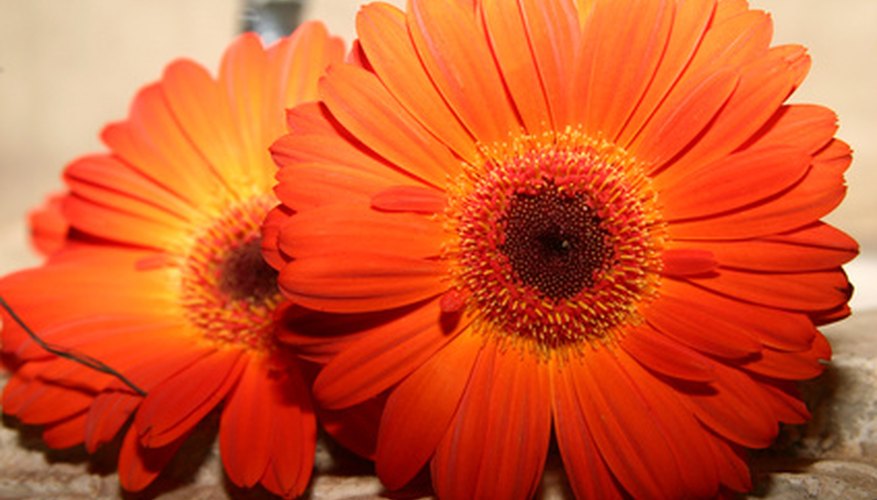 Gerber daisies are large, brilliant blooms that can lighten up any room. These South African native beauties, often used in bridal bouquets and floral arrangements, come in bold shades of red, orange, pink, fuchsia and purple, and span 4 to 6 inches in width. Grown as perennials in warmer climates and annuals in colder regions, they make excellent houseplants. With proper care, potted indoor specimens bloom for up to six months and live two to three years.
Situate potted Gerber daisies in a well-lit location with partial sunlight and good air circulation. Flowers need temperatures between 40 and 70 degrees when in bloom, but do not thrive in full sunlight.
Keep soil evenly moist when Gerber daisies are blooming. Water every other day during bloom, but do not let the soil get soggy. Too much moisture can cause crown rot and leaf browning. Allow soil to dry slightly between waterings when the plant is out of bloom.
Feed Gerber daisies every other week during active growth and blooming periods. Use a water-soluble fertilizer and follow the manufacturer's directions. When the plant is out of bloom, apply fertilizer once a month.
Remove spent blooms and stems as they occur. Keep the pot tidy by picking out fallen petals and leaves. This will keep the plants in a sanitary condition and prevent diseases such as gray mold or powdery mildew from developing.
Utilize a fungicide such as Milstop or Strike, specifically designed to control or eliminate disease in Gerber daisies. Follow the manufacturer's directions as to application times and dosage.
Monitor potted Gerber daises for aphids and white flies. Use an organic insecticidal soap to control any infestations that occur.