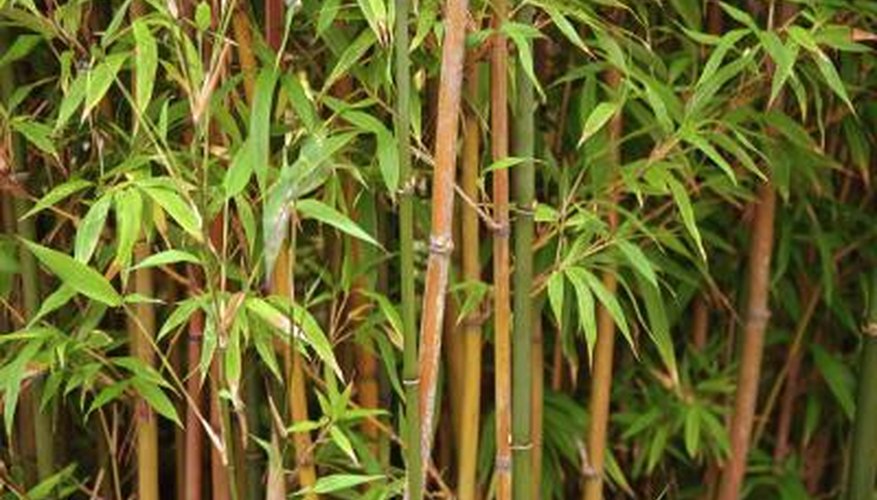 Bamboo is known for its beauty and grace in the landscape, as well as its functional qualities, such as providing a fast evergreen screen. Many homeowners know it equally well for its invasive tendencies -- some types of bamboo can take over a property and are nearly impossible to eradicate. Clumping bamboo does not have this invasive potential, staying in single neat, tidy clumps. The right variety depends on the desired height, growing zone and aesthetic preferences.
Tall (Over 30 Feet)
Most varieties of clumping bamboo are tropical species, but the Bambusa genus contains several that can be grown in U.S. Department of Agriculture plant hardiness zones 8b to 11. The tallest, giant timber bamboo (Bambusa oldhamii), grows to 45 feet in height with huge, 3-inch canes. "Green Stripestem" bamboo (Bambusa dolichomerithalla) grows to 35 feet with 2-inch canes. It has highly ornamental, variegated canes in hues of green and yellow. Both of these species grow well in full sun.
Medium (20 to 30 Feet)
Several medium-sized varieties of the species Bambusa grow in full sun. "Alphonse Karr" is one of the prettiest, growing to 25 feet with canes of 1 1/2 inches in diameter. "Silvertripe" grows to similar dimensions but its canes are striped in shades of light and dark green. "Willowy" grows to 20 feet or more with thin canes that arch towards the ground. "Fernleaf" has /1/2-inch canes with tiny, finely textured foliage.
Small (10 to 20 Feet)
Tibetan princess bamboo (Himalayacalamus asper) is one of the hardiest clumping varieties, growing in USDA zones 6b to 11. This species grows to 15 feet and forms a dense clump of 1-inch reddish canes that arch gracefully towards the ground. Candystripe bamboo (Himalayacalamus falconeri) is a variegated species with hues of green, yellow, and magenta. Its canes are 15 to 20 feet tall with a 1-inch diameter and can be grown in USDA zones 8b to 11. These two related species can be grown in full or part sun.
Dwarf (Under 10 Feet)
Most dwarf bamboos run rampantly and prefer to grow in shade. However, several clumping varieties grow well in full sun. "Golden Goddess" reaches a maximum of 10 feet and has 1/2-inch canes. "Riviereorum" is similar but grows 6 feet tall with 1/4-inch canes. The smallest, called "Tiny Fern," grows to only 3 feet tall and has 1/8-inch canes.