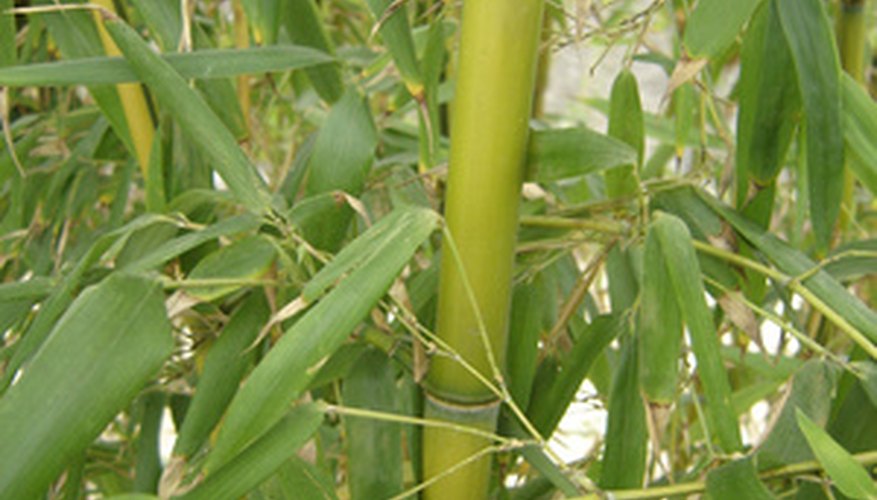 Growing in the tropics, subtropics and temperate climates worldwide, over 1,200 species of bamboo are known to exist, according to the Missouri State University. Varieties grow from 1 foot to over 100 feet tall. Bamboo hardy in Missouri is primarily of the clumping or clump-forming type. It slowly grows a clump of bamboo culms in contrast to the running type of bamboo, which spreads by underground runners and is generally less hardy.
River Bamboo
Hardy through USDA zone 5, river bamboo (Arundinaria gigantea 'Rivercane') is native to North America. It grows up to 20 feet high and is cold hardy to minus 10 degrees Fahrenheit. River bamboo produces culms that are about 1 inch in diameter and will grow equally well in sun or shade.
Rubro Bamboo
Rapidly growing to a height of 55 feet at maturity, rubro bamboo (Phyllostachys rubromarginata 'Rubro') will survive down to minus 5 degrees F and can be counted on to survive winter in virtually all of Missouri. It prefers full sun or partial shade and is tolerant of all soil types and growing conditions. Rubro bamboo is excellent grown as a living screen.
Nuda Bamboo
The most cold hardy variety of its species, nuda bamboo (Phyllostachys nuda) is a darker green with a smaller leaf structure than its relatives. Hardy to minus 20 degrees F, nuda bamboo can successfully overwinter through USDA zone 4. It will grow anywhere in Missouri, including microclimates in exposed locations. Nuda grows to a height of about 34 feet and its culms are 1 3/4 inches in diameter. Like all hardy bamboo varieties, it prefers full sun to partial shade and well-drained soil.