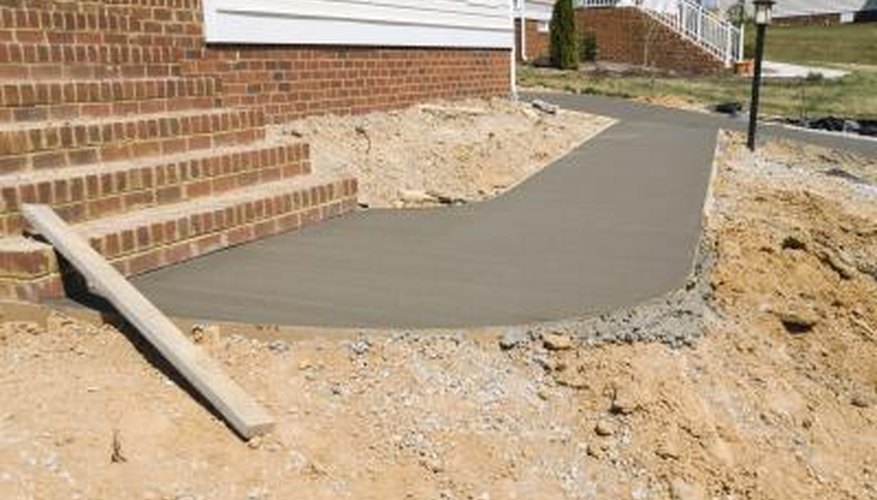 Concrete is found in almost every type of construction project. Equally important to the mixing and the pouring is the finishing, or putting the final, smooth surface on the project. A finish defines the durability of the concrete, and the difference between a bad finish and a good one is the difference between a project that is durable and one that fails in a few years. Hiring a concrete worker who knows how to put the best finish on is expensive.
Functional or Decorative
Concrete found in floors, walks and driveways is usually functional, or smooth. Around swimming pools, patios and other areas where decoration is preferred, the concrete takes on a completely different appearance. It can be stained, shaped into stone-looking modules or patterned like bricks. Concrete finishers start out learning the basics with functional concrete and then move over to decorative finishes. A good finisher can learn the decorative side in a few weeks.
Different Wages
Concrete finishers usually are paid at the prevailing wage in their area, which differs around the country. Chicago area decorative finishers are paid up to $50 per hour, while in Alabama they earn about $23 an hour and in Southern California about $30. Beginning concrete finishers in Alabama earn $12 per hour, while in Southern California they start between $10 and $15. Chicago, again, is higher, with beginning finishers paid closer to $25 per hour.
Other Factors
Additional factors affecting the wages include the trust the contractor puts into the work of the finisher, the established relationship between contractor and finisher and the amount of work that needs to be done. Many finishers are subcontractors who hire out to concrete contractors as the work is needed. As the skill level increases, so does the value of the finisher and the likelihood that he'll be paid more per hour. Dependability is also a determining factor in setting wages for the finisher.
Skills Needed
A typical driveway of 800 square feet will need two to three finishers. A three-man crew will normally have a foreman, or boss, along with an experienced assistant and a newer hire. Some of the necessary skills learned are striking off, screeding, brooming, floating, troweling and bull-floating. Another important skill is jointing, or creating an artificial break across the concrete such as what you see when you walk down a sidewalk and see breaks, or cracks, every few feet.