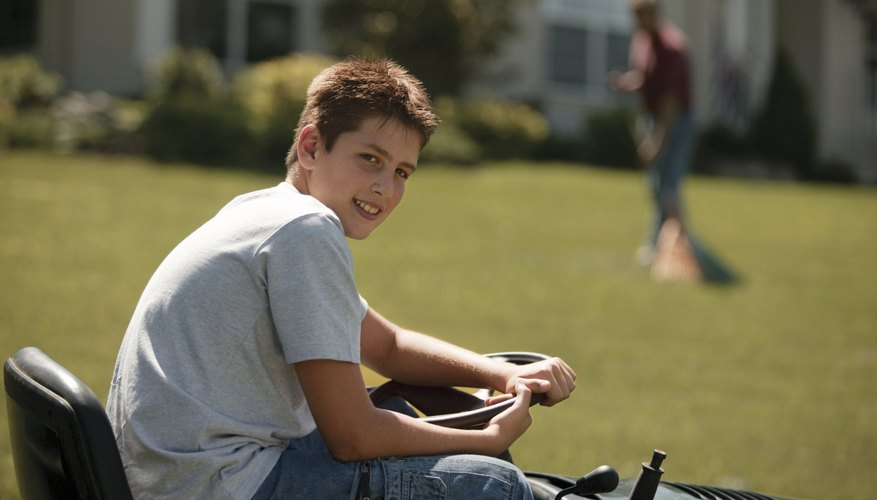 When a riding lawnmower operates under normal circumstances, air, fuel and spark all combine in exact proportion to allow the fuel to ignite at the necessary temperatures. However, when an imbalance in the fuel or air occurs, the result can be a sudden surge in the engine or drop-off in power.
Dirty Air Filter
The air filter sits atop the carburetor and purifies all incoming air, removing particulate matter from the air before it can scour the piston inside the cylinder. Since riding lawnmowers operate regularly in dirty, dusty conditions, these air filters will get dirty fast. Once the air filter gets too dirty, the amount of air available for mixing will also drop, and the engine's performance will suffer. Riding lawnmower air filters need frequent cleaning, typically after every 10 to 12 hours of operation.
Clogged Fuel Filter
Just like the air filter, the fuel filter purifies all incoming fuel, removing any foreign matter before it can enter the carburetor and damage the engine. When the cap is removed during a refueling stop, if the operator isn't careful dirt or grass clippings can fall into the tank. Once the lawnmower starts running again, this matter will suck up against the fuel filter, which can cause a rush and then a loss in fuel. Fuel filters in riding lawnmowers should be replaced at the beginning of every season.
Air Fuel Imbalance
The carburetors inside a riding lawnmower regulate the amount of fuel and air to supply to the combustion chamber. This effectively sets the speed of the mower's engine. However, if this ratio is set improperly, too much gas or air may be mixing into the fuel, which will cause an engine surge. Carburetors often have two or three adjustable screws, allowing the operator to set this mixing ratio. If you're unfamiliar with a carburetor adjustment, allow a professional to adjust it for you.
Dirty Carburetor
Before the fuel can mix with the air, it must travel through the inlet passage on the carburetor. Just like the fuel filter inside the tank, a small mesh screen helps clean any debris still inside the fuel before it damages the carburetor or combustion chamber. However, this debris can get lodged against the screen, causing fuel to flow in at disproportionate rates, in turn often causing a surge. Carburetor cleaning can also be tricky, so it's best to leave this to a professional.