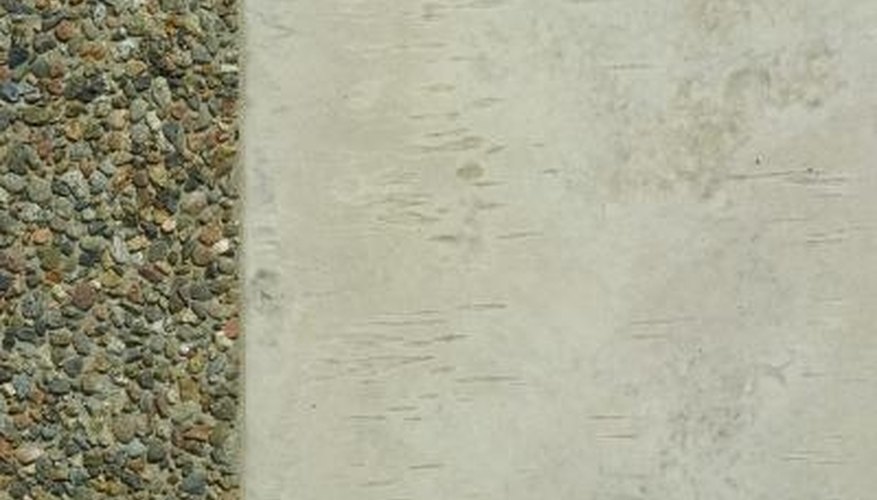 Cement renders are composed of cement, lime and sand. They are generally applied to outdoor surfaces, such as on top of bricks or cinderblocks. Cement renders serve to improve a structure by reinforcing waterproofing, increasing a fire rating and beautifying a wall. Cement render should be mixed in a wheelbarrow or on a hard, dry surface such as concrete. A rendered mix should be used within 30 to 40 minutes, otherwise it will start to dry out.
Determine the type of render finish desired. There are internal renders such as floating, glass-faced and floor screeding. There are external renders such as sand-finished base coat, sand-finished top coat and bag wash.
Refer to a chart, such as the one from Cockburn Cement, to find the appropriate mix ratio.
Use a measuring bucket to add the appropriate ratios to the wheelbarrow. For example, a bag wash exterior render requires one part cement, one part lime and five parts sand. So, add one bucket of cement and one bucked of lime for every five buckets of sand.
Add water to the mixture very slowly. Use a shovel to mix the materials. Keep adding water until the mixture feels like a soft putty. The mixture should stick to the trowel when it is flipped upside down. Do not make the mixture too watery.
Apply the render to the surface using the trowel until it is of the desired thickness. If multiple coats are required, allow each preceding coat to dry for three to seven days.