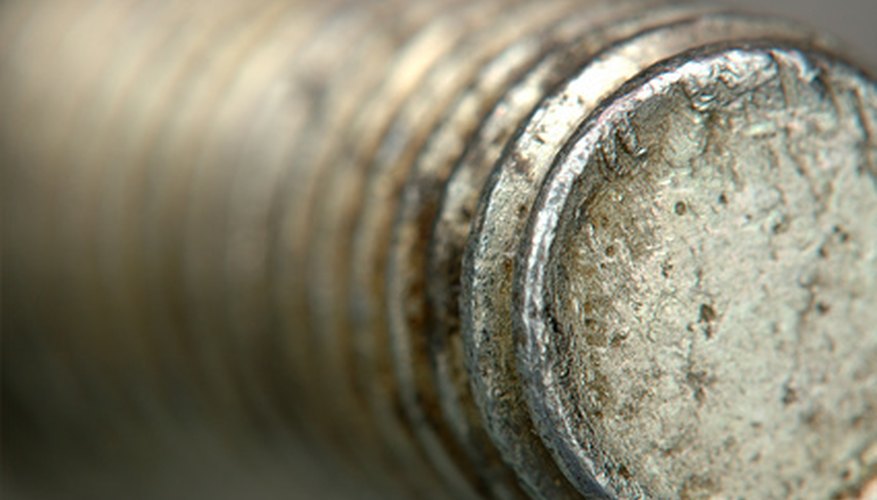 Anchor bolts can "come up short" for a number of reasons. They can be set in place at the wrong elevation, shift out of place during a concrete pour or later design changes can make their original length inadequate. A change order must be submitted to the Engineer of Record for the project, and approved, before undertaking the process to extend anchor bolts using a coupler nut designed for that purpose. The Engineer of Record, not the architect, must provide authorization for this change order or the anchor bolt will fail inspection.
Step 1
Clean the threads of the anchor bolt of all dirt, debris, rust or concrete. Use a wire brush if necessary.
Step 2
Hand thread the coupler nut onto the anchor bolt threads. Make sure the top of the nut (the shorter length of the nut above the side indents) will be on the top end of the anchor bolt and not threaded onto the bolt.
Step 3
Use a wrench to complete tightening the coupler nut onto the anchor bolt threads. Look through the "witness holes" cast in the side of the nut to make sure the threads of the bolt and nut are lining up and interlocking. Remove the nut and re-thread it if the threads are not matching.
Step 4
Thread the anchor bolt extension into the top of the coupler nut by hand.
Step 5
Spin the anchor bolt extension nut onto the top of the extension and bring it down all the way to the top of the coupler nut.
Step 6
Tighten the extension into the coupler nut by gripping the nut on the extension bolt with a wrench and turning it clockwise.