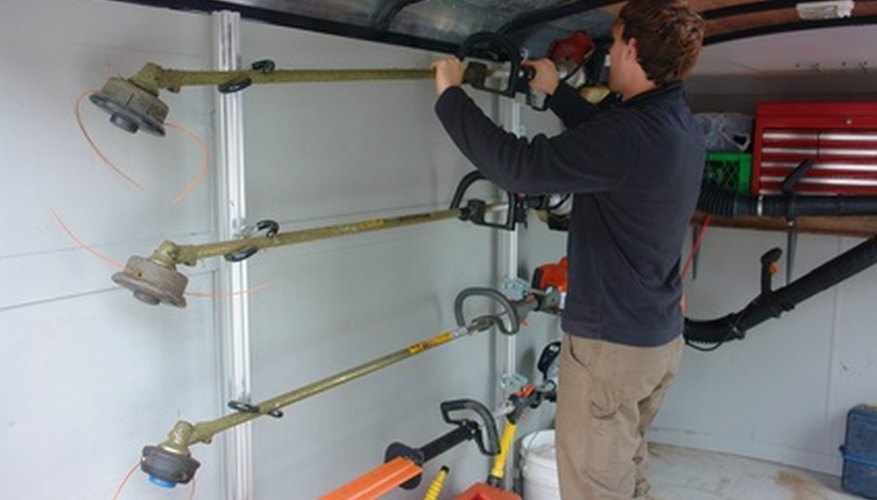 Weed Eater products incorporate a bump feature in their string line trimmers to supply the tool with extra line. Bumping the tool on the ground allows another length of line to exit the trimmer head. Weed Eater model # RTE115 holds a 25-foot length of trimmer line for trimming grass and weeds around trees and sidewalks.
Pull out 25 feet of the measuring tape, lock it in place and set it on the ground.
Pull the free end of the replacement line off the spool and lay it at either end of the measuring tape under a rock, brick or heavy object to hold it down. Walk with the spool to the other end of the tape measure to pull out 25 feet of replacement line. Cut it at the 25-foot mark.
Unscrew the cap on the Weed Eater by turning it in the direction of the arrows on the bottom. Pull the cap straight off and set it aside. Pull the line guide ring straight off and set it aside. Remove the empty spool of line.
Thread one end of the replacement line into the middle chamber of the empty spool through the guideline hole with about 5 inches protruding.
Wrap the replacement line around the spool in a counterclockwise direction. Make slow wraps that are evenly spaced on the spool until the spool is full. The entire 25 feet of line will fit into the line chamber.
Leave a tail of 5 inches unwound from the spool. Pull the starting end and ending part of the string of 5 inches each through the holes in the spool.
Feed the free end through the guide ring and replace the guide ring on the spool. Feed the free end through the center of the cap and screw it on opposite the direction of the arrows.