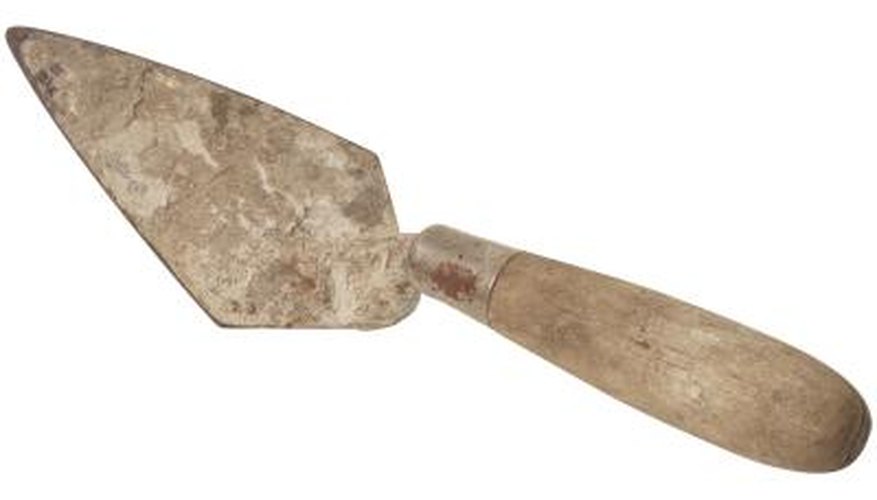 Stone foundations have been widely used in the United States in previous centuries, and they capture the spirit of a previous architectural era. Repointing cracks in the joints of the stone foundation will repair deteriorating mortar, cracks and loose stones in the foundation. Repointing can also help address moisture leakage in the interior foundation walls. The National Park Service's Preservation service states that repointing is "the process of removing deteriorated mortar from the joints of a masonry wall and replacing it with new mortar."
Step 1
Rake out the mortar joints to a depth of about twice the width of the joint. If the joint is 3/4-inch, rake it out to 1 1/2-inches. Use a joint raker made specifically for this purpose, which will help you rake out the old mortar without damaging the stone. Brush away any loose pieces of mortar or powder.
Step 2
Clean the foundation and the mortar joints with water using a garden hose, sprayer or power washer. The purpose is to clean the joints where the new mortar will be laid and also to dampen the stones and mortar joints. Let the joints soak up the water for an hour or two. If the joints are very dry, wet them down the day before and repeat the following day. This will provide a better bond and will help avoid cracking.
Step 3
Mix lime mortar with a shovel or use premixed lime mortar. Open the bag of mortar in the wheelbarrow and create an indentation in the middle of the powder. Add water to the center of the indentation and mix the mortar with water using a shovel. Use the back of the shovel to break up any chunks of mortar until you have a consistent mixture. You want the mortar to be wet, stiff, but not runny. Too much water can contribute to cracking when it dries.
Step 4
Put a moderate amount of mortar on your hawk and use the point of your trowel to work the mortar into the joints. Push the mortar firmly in place, tamping it in. Keep the mortar off the face of the stones as much as possible. The mortar should have a uniform depth, and it should dry evenly, and be slightly indented in comparison to the plane of the face of the stone.
Step 5
Cut a piece of pine wood, approximately the same width as the joint to create a 45-degree angle at the tip. Run the tip of the wood along the joint of the new mortar applying constant pressure. This will remove most of the excess mortar. When completely dry, clean the face of the stone and any remaining excess mortar with a stiff brush or churn brush.