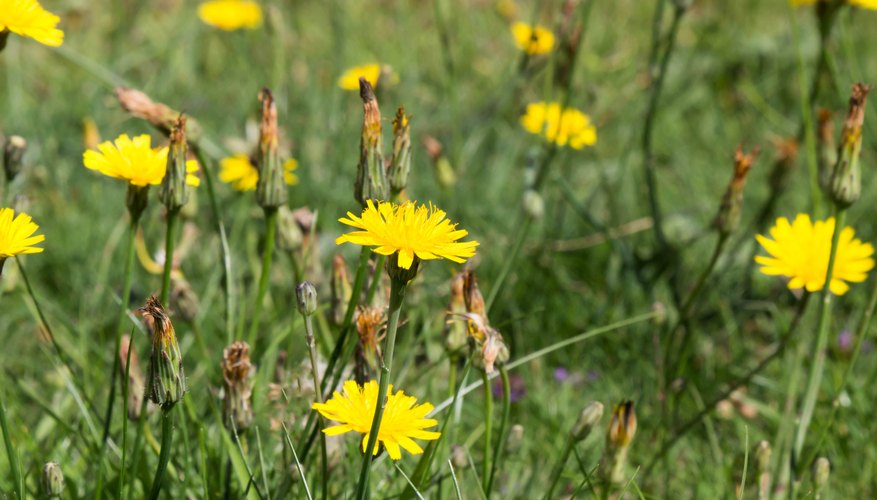 Not all weedkillers, or herbicides, are alike. Some kill all forms of plant life while others target specific types of weeds. Likewise, some weedkillers work from the roots up while others are applied to weed leaves. Because of the broad spectrum of ways weedkillers work and what they are good for, it's important to read the label recommendations on each weedkiller you use; otherwise, the product may not work at all or may harm plants you intended to keep.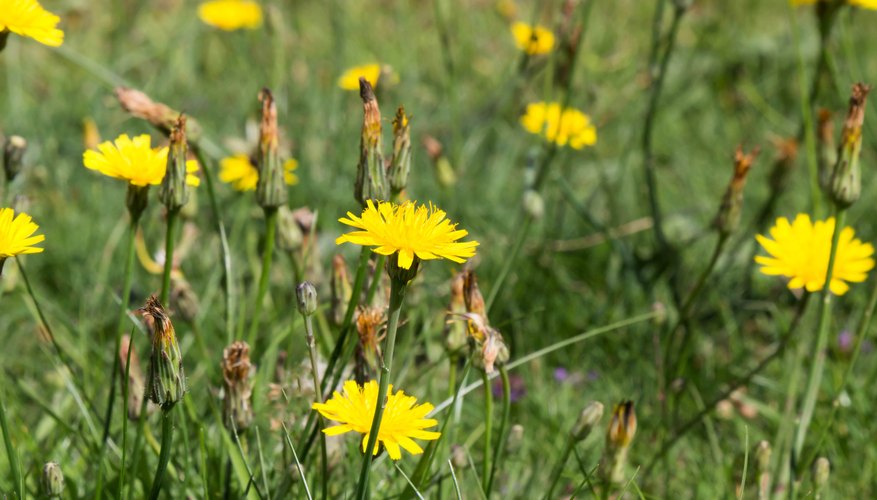 Selective and Non-Selective Weedkillers
One key factor to look for when choosing a weedkiller is whether the product is selective or non-selective about what it kills. A selective weedkiller targets only specific types of plants; an example is a product designed to kill or prevent weeds from appearing on lawn without harming the lawn.
A non-selective weedkiller, however, may kill every type of plant it reaches. That type of weed-control product is useful in areas such as cracks between patio pavers and cement slabs on a driveway.
Pre-Emergent and Post-Emergent Types
Besides targeting specific types of plants or all plants, some weedkillers are designed to work before you even see weeds while others are applied after weeds are visible. A pre-emergent product is applied to an area before weeds pop through the soil and can kill young weeds just after germination or as they start to emerge through the soil.
A post-emergent weedkiller is applied directly to weeds already established, but ideally before they go to seed and cause more weeds. Any type of weedkiller that is designed to spray directly on a weed is a post-emergent product. Post-emergent products do not prevent new weeds from germinating; if any weeds are beneath the soil when you apply one of those products, the weeds will still sprout and grow as they would have anyway.
Systemic and Contact Varieties
Weedkillers also fall into two categories as far as how they work: Some are systemic in nature while others are based on contact. A systemic weedkiller is absorbed by a plant and travels through it via the roots, leaves or other parts of the plant, effectively killing the entire plant. A contact weedkiller damages only the plant area it touches; it may cause a tall weed to shrivel while the plant's root may be completely unharmed, especially if the root runs deep. A contact weedkiller, however, still may reduce a plant's ability to absorb nutrients or sunlight, effectively killing it.
If you are confused about the best product to use for your specific weed problem, then read the labels on a few weedkiller or herbicide products. Typically, a package label lists the kinds of weeds targeted by the product, as well as when and how often to apply the substance to ensure safety and effectiveness.
Natural Solutions
Many weedkillers contain chemicals that can be harmful to the environment, pets or even humans. If you are concerned about using chemicals to combat weeds, opt for a safer, natural alternative such as vinegar. Vinegar sprayed directly on established weeds burns them, with the help of sunlight. In many cases, the weeds shrivel and die. Non-weed plants sprayed with vinegar may die as well, though. So take care not to spray vinegar on your flowering plants or lawn.
Other chemical-free weed-control options include:
Pouring boiling water on weeds -- ideal for weeds growing in pavement cracks.
Crowding out weeds with healthy, non-weed plants.
Pulling out weeds one by one, roots and all.