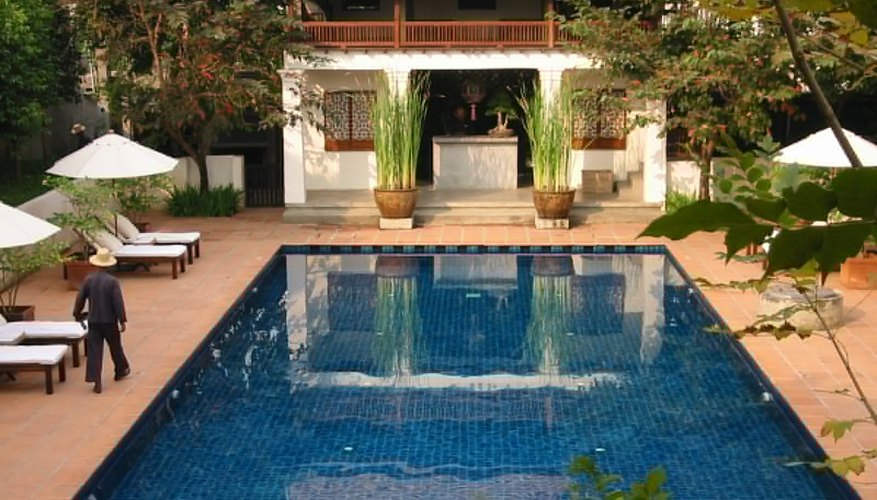 Most inground swimming pools have coping that runs around the perimeter of the pool. Swimming pool coping is the often sloped part of the deck that covers the edge of the pool. It functions the same as the coping of a wall, which acts as a cap for the wall. A pool can have four different types of coping, made out of materials such as concrete, tile, metal, stone or brick.
Bull Nose Coping
The most common type of swimming pool coping is called bull nose because it is shaped with a rounded edge like the end of a bull's nose. This type of coping is common because of its flexibility in material (poured concrete, brick or stone), and it can be made to match any pool design. For this reason, the bull nose coping is the standard coping used on pools.
Rough Cut Coping
Rough-cut coping is made out of rough stone. This provides a rough edge to the pool. The stone look of the coping provides a classic, casual look to the inground pool. It is often also called country, cobble or tumble coping.
Cantilever Coping
Cantilever coping is used to provide a more modern look to your inground pool. The term cantilever comes from bridge construction and means a large beam that is fixed at only one end and projects over an opening. Therefore, cantilever coping is coping that is attached at the deck and projects over the pool. This provides a natural look to the landscape. Cantilever coping is also more difficult to install.
Rolled-Edge Coping
Rolled-edge coping is used mostly in pools that are designed for exercising because the design provides a edge for the swimmers to grab onto. Rolled-edge coping is designed with a smooth, upturned edge. Because swimmers are meant to grab hold of the edge, rolled-edge copings are limited to smooth material, such as granite, marble or poured concrete.
Material
The pool coping can come in a variety of materials to match the landscape and pool design. The most common material is concrete, because concrete is slip-resistant and very durable. You can order precast concrete or concrete pavers in many natural colors. Stone is another common type of material used, because stone coping holds water well and is very strong. Stone coping also blends in with the landscape.