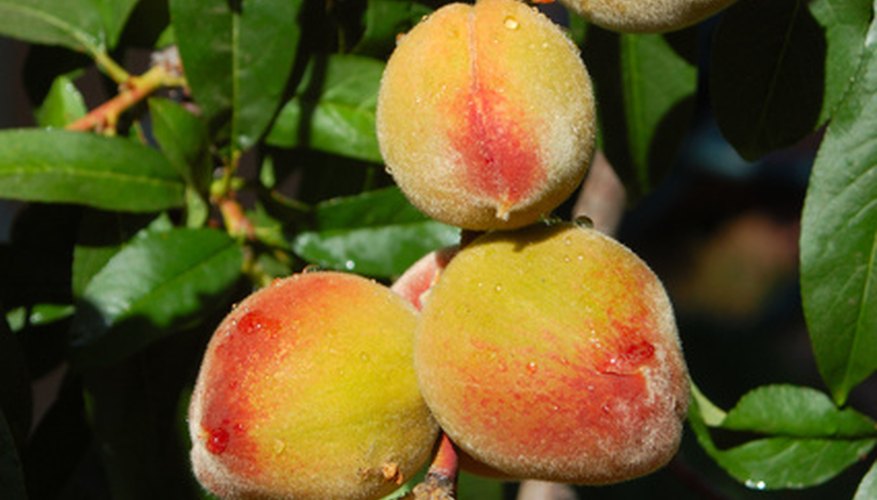 The best peach trees for Northwest Florida require less than 700 chill hours each winter--the number of hours when the temperature is below 45 degrees. The correct number of chill hours cause peach trees to break dormancy, begin spring growth and set fruit properly. The average number of chill hours in Northwest Florida is 660 to 700. Although some peach trees require less than that, if the fruit ripens later in the season, the heat may cause the fruit to deteriorate.
Florda Series
The University of Florida specifically developed the "Florda" series of peach trees to grow in Florida. Flordaking requires 350 to 450 chill hours, while Flordacrest needs 300 to 350 chill hours.
Flordaking bears medium to large semi-cling peaches in early May. The peaches have red blushed skin, golden yellow flesh, and a sweet flavor. Flordacrest bears about a week later than Flordaking. The medium to large semi-cling peaches have red skin and yellow flesh.
Gulf Series
The United States Department of Agriculture, the University of Florida, and the University of Georgia worked together to develop the Gulf series of peach trees for Florida and Georgia.
Gulfcrest requires 500 chill hours and bears large semi-cling peaches in May. Gulfking bears large semi-cling peaches in late May to early June, while Gulfprince bears medium peaches in June. All three varieties have red blushed skin and golden yellow flesh.
Other Peach Varieties
Junegold needs 650 chill hours per winter and bears in June. The large freestone peaches are excellent for canning. They have red blushed skin and yellow juicy flesh. Sam Houston is a cross between Early Elberta and Floriberta. It requires 500 chill hours and bears yellow freestone peaches in June.