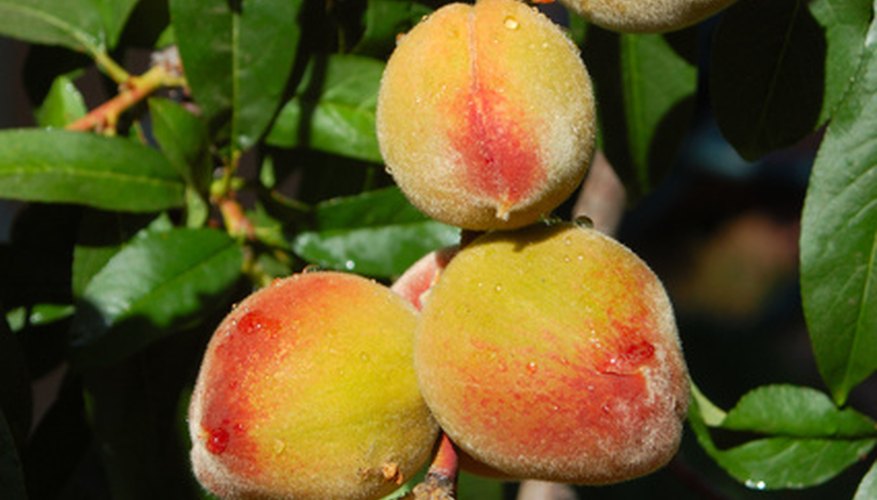 Group Of Peaches image by LynWatanabe.com from Fotolia.com
Central Texas enjoys cooler summers and less humidity than the coastal and southern regions of the state, as well as more below-freezing days in winter. This region of Texas has ideal growing conditions for many types of fruit trees. Central Texas is known for its peach and apple orchards. Home gardeners can select from many varieties of fruit trees adapted to growing conditions in Central Texas. Generally, Central Texas gardeners can plant bare rootstock between January 1 and February 15 and container-grown trees between January 1 and March 31
Peaches
Parts of Central Texas are known for their peach orchards. Late frosts in the spring can damage peach crops some years, especially early-blooming varieties such as Bicentennial, Sentinel and Harvester. Springgold and Surecrop are good choices for cling peaches, while Milam, Dixieland, Redskin and Jefferson are freestone peaches recommended by the Texas Agriculture Extension Service for Central Texas.
Pears
Pears are subject to fire blight in Texas, so you'll need to select blight-resistant varieties. Keiffer, LeConte, Ayers and Maxine pears produce well in Central Texas.
Plums
Red plums such as Allred and Bruce do well in Central Texas. For a purple plum, Texas A&M University recommends Methley. While most plum trees will self-pollinate, all will do better with a second tree, and the Bruce variety requires another plum tree for cross-pollination.
Apples
Apples require cross-pollination to produce the best crop of fruit, so you should plant at least two trees of two different varieties for the best results. Gala, Mollie's Delicious, Starkcrimson Red Delicious and Ein Sheimer are varieties that do well in Central Texas.
Resources