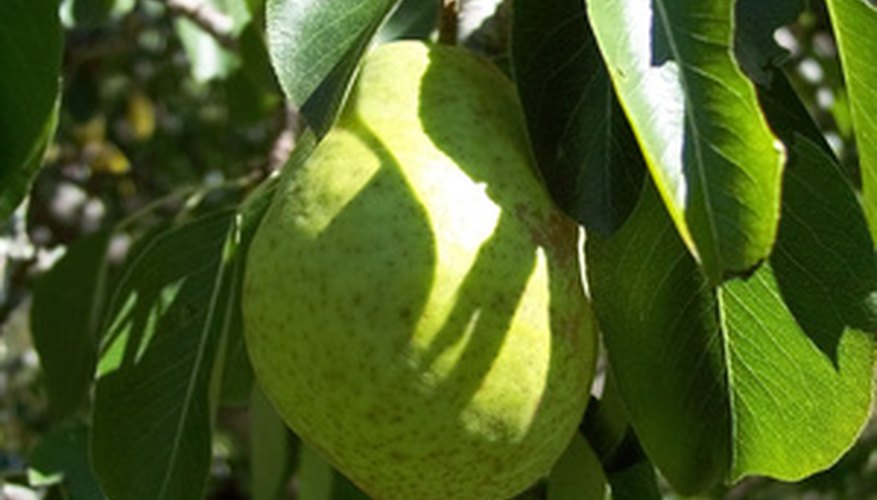 While Florida is best known agriculturally for its orange trees, pears will also grow in the state and are often found in home orchards. Some species grow better in the northern part of the state while others are best adapted to the central regions of Florida. The University of Florida Cooperative Extension recommends pear cultivars that grow well within the state and are resistant to fire blight, a disease that can be devastating to pear trees in Florida.
Baldwin
Baldwin pears produce medium to large fruit averaging 220 to 240 grams. They are oblong in shape, and light green in color with a russet surface. The flesh may be slightly course in texture. Baldwin pears are good both canned or eaten fresh. Full bloom occurs in late March in north Florida and ripen in late August or September.
Carnes
Carnes pears trees are suited to growing in north Florida. The pears are medium sized averaging around 160 grams. The skin color is yellowish green and lightly russeted. The fruit is more rounded, and the firm flesh has a medium coarse texture. Carnes pears are flavorful and can be eaten fresh or canned. They bloom in late March and the fruit ripens in July.
Hood
An early ripening pear, Hood pear trees bloom in mid-March and ripen in mid-July. The fruit is large, averaging around 260 grams. Yellow-green in color and with a smooth juicy texture and excellent taste, Hood pears are considered one of the best fresh eating pears grown in Florida. The trees can be grown in both the central and northern parts of the state.
Kieffer
The Keiffer pear tree was originally introduced by Peter Keiffer in Pennsylvania in 1876. The large, roundish fruit averages around 250 grams in weight. Keiffer pears tend to have a higher chill requirement than other cultivars and are often restricted to the northern portions of the state. The tree blooms in late March and the fruit can be picked in late August. The flesh tends to be coarse and is better for canning than as a dessert pear.
Orient
Orient pear trees originally came from California and were introduced to Florida in 1945. The fruit is nearly round and very large, often weighing in at 300 grams. The fruit can be eaten fresh, but is better suited to canning. This north Florida pear is particularly resistant to fire blight. Orient pears bloom in mid-March and the fruit is ready in late July or early August.
Pineapple
Pineapple pear trees tend to grow fruit smaller than others with weights in the 210 to 220 gram range. Each pear is round at the center and narrow at both ends. The fruit is used primarily for canning. The skin is yellow with russet dots and tends to be rather thick and flesh is course in texture. Pineapple pear trees do well in both central and north Florida, blooming in early March and ripening in early August.
Tenn
Tenn pear trees produce fruit that is among the smallest of pears, with an average weight of around 120 grams. The fruit is greenish yellow with a red blush. It is an excellent dessert fruit, with a flash that is fine and smooth in texture. Tenn pear trees bloom in early March with fruit ripening in early September in north Florida.