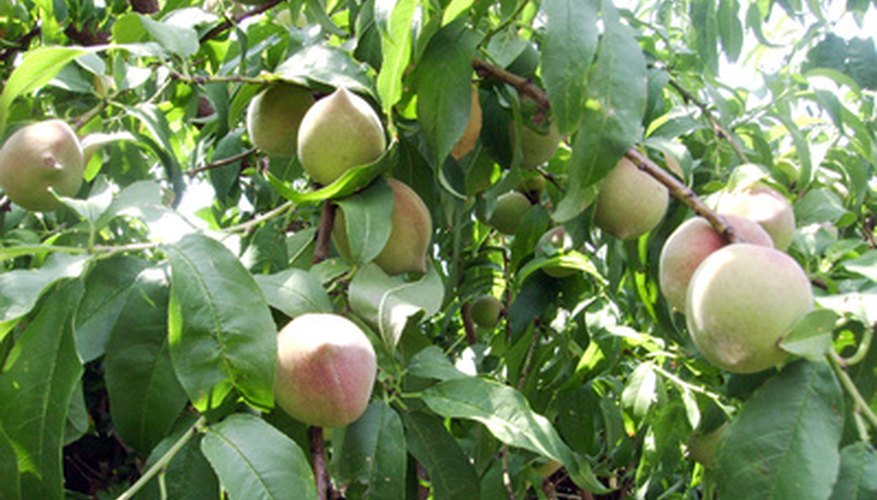 With more than 2,000 peach tree varieties, making an accurate identification can be very difficult. Peach varieties are distinguishable mostly by their fruit characteristics. Peaches are divided into several different categories, based on their fruit type, color and size. Originating from China, peach trees (Prunus persica) are popular fruits that are produced in both commercial and home orchards throughout many parts of the world. Peaches are known for their sweet, juicy fruits that have thin, fuzzy skins.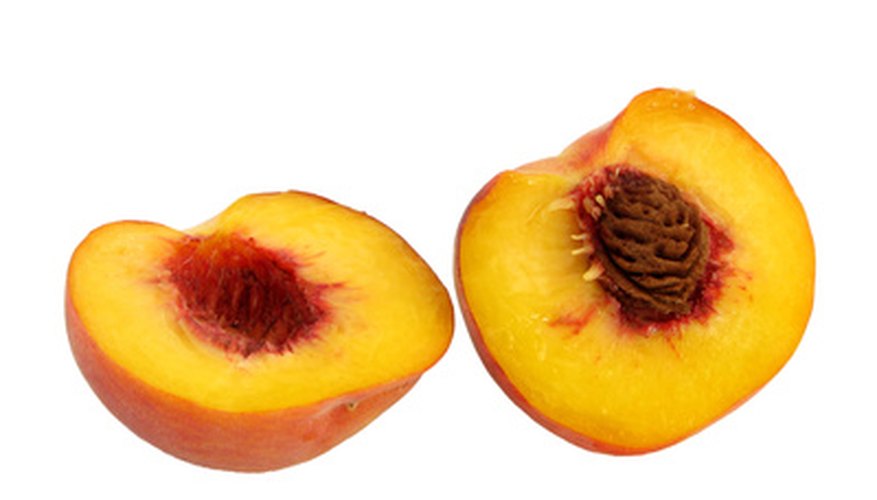 Identify the peach tree variety by whether its fruits are clingstones or freestones. Clingstone peaches have fibrous, usually firm flesh that sticks to the pit when you cut the peach in half, while freestones have flesh that's removed easily from the pit. Semi-clingstones or semi-freestones are peaches that are mostly freestone when fully ripened.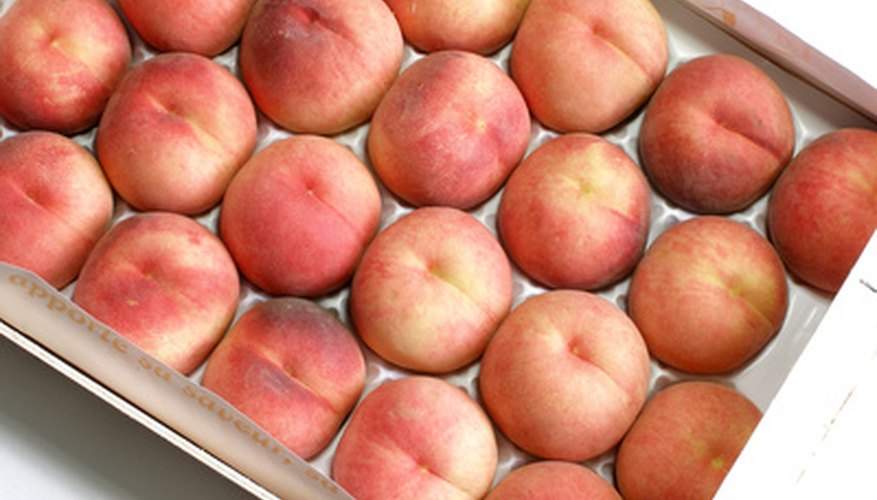 Study the fruit size and shape to identify the peach tree variety. The Flavorcrest, Summerset, Suncrest and Loring varieties have large, round peaches, while the Donut, or Stark Saturn, variety has medium-sized, donut-shaped fruits. The Ventura peach tree variety bears small, oblong fruits.
Look at the fruit skin and flesh color to identify peach tree varieties. Yellow-fleshed peaches usually have yellowish skin blushed with red and include the Rich May, Reliance, Redhaven, Cresthaven and Elberta varieties. White-fleshed peaches have red to white skin and include the popular varieties Sugar May, Rich Lady, Carolina Bell, White Lady, Redrose, Lady Nancy, Belle of Georgia and White Heath Cling.
Identify the peach tree variety by whether the tree is dwarf-sized or standard-sized. An increasing number of dwarf varieties are becoming available, including the Southern Sweet, Southern Rose, Southern Flame, Pix Zee, Honey Babe, Golden Glory, Golden Gem, Garden Gold, Empress and El Dorado.
Notice the fruit's flesh texture and flavor to determine the peach tree variety. The Babcock variety has tender, juicy and tangy-sweet flesh, the Cresthaven has firm yellow flesh that's juicy and sweet and the Fairtime variety has firm, smooth flesh with a sweet flavor and melting texture.
Tip
Common clingstone peach varieties include the Indian Blood Cling, Halford, Strawberry Cling and Arctic Supreme. Freestone peach trees include the Cresthaven, Donut or Stark Saturn, Elberta and Halehaven varieties. Floridaprince, Dessert Gold and Dixi Red peach tree varieties are considered semi-freestones or semi-clingstones. You can also narrow down the peach tree variety by the time of year when the fruits ripen and are ready for harvest. The earliest-ripening peach varieties include the Rich May, Sentry and Cando, which ripen as early as July. The Reliance, Redhaven, Halehaven, Harken, Honey Babe and Loring are harvested mid-season, usually in August or early September, while the late-harvest varieties that ripen in early autumn include the Madison, Belle of Georgia, Cresthaven, Empress and Fairtime.