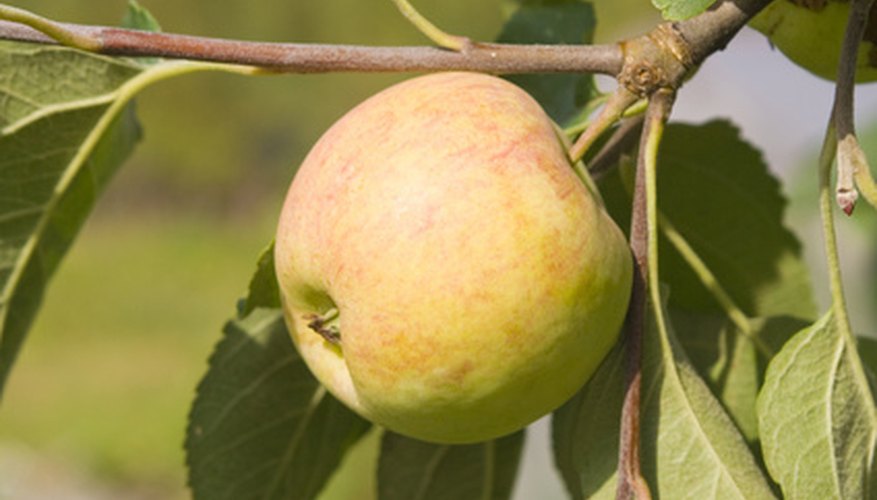 Apples are very important in Ohio. John Chapman, more commonly known as Johnny Appleseed, gathered Rambo seeds from the cider presses in Pennsylvania and planted them all over Ohio. He wanted to make sure that when settlers moved west, they would have something to eat. The Rambo apple was a tart, green apple that is very hard to find today. It was the forerunner of many apples grown in Ohio today. Ohio's climate is great for growing apples, and many varieties are grown in the state.
McIntosh
McIntosh apples are a big favorite in the state of Ohio. They have a spicy flavor and are red outside and white inside. Harvest time is September to October, making it a midseason apple. McIntosh apples are flavorful for eating and are good in applesauce, which freezes exceptionally well. A McIntosh apple pie is one of the best of all.
Delicious
Delicious apples are either red or gold. The red variety has a sweet flavor, while the gold one is rich and not quite as firm as the red. Both are harvested in September to October. Both are great eaten raw, and the gold makes a beautiful applesauce. The flavor of both varieties is too mild to use in baking, and they do not freeze well.
Jonathan
Jonathan apples are a red and green apple with a very tart flavor. Use them in applesauce made for freezing or canning, or in pies and other baked goods. The slices can be frozen for future pies. This apple ripens September to October.
Melrose
The Melrose is a cross between a Delicious apple and a Jonathan. That mix colors it red over yellow, with a rough-textured skin and mild flavor. Melrose apples make a good addition to a brown-bag lunch and can be made into sauce or baked in any manner. Melrose is a later apple, ripening in October to November.
Ginger Gold
The Ginger Gold apple is tart and crisp with a smooth yellow skin. It is good only for eating, as it will not break down when cooking or freeze well. It ripens very early in August and is best used as a snack or lunch item.
Rome
Rome apples are red with speckles, and they are very firm with a mild flavor. This apple stores in a cool, dark place for months. It is an eating and a baking apple, and the slices can be frozen. It ripens October to November.
Winesap
Winesap or Staymen Winesap apples have a rough red skin and are great eaten raw or made into any food item. The spicy flavor is delightful. Both slices and sauce are easily frozen, and this is another apple that stores for a long time. It ripens October to November.