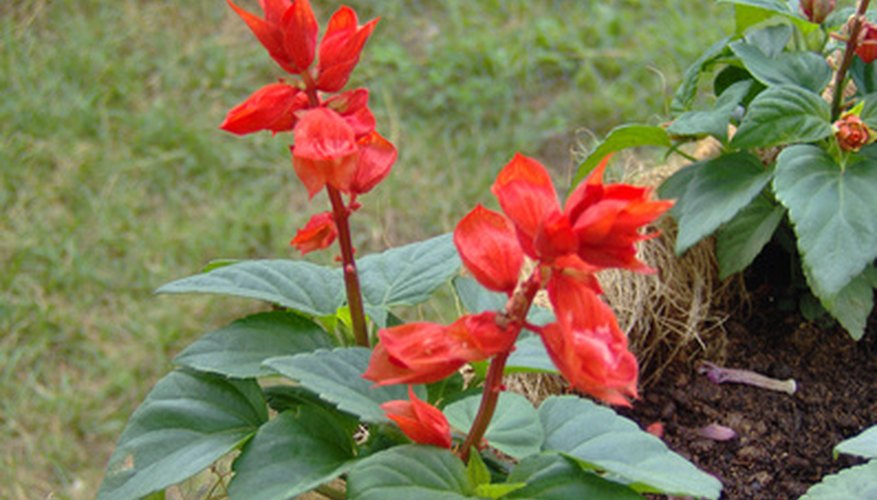 Salvia is a genus in the mint family, consisting of about 900 species of annuals, perennials and shrubs. Salvias, also called sages, grow in temperate and subtropical regions, in coastal areas and in mountain habitats. Salvias are some of the best summer-blooming annuals and perennials, according to Clemson University's extension, due to their long blooming and tolerance of hot and dry conditions.
Form
Salvia foliage is often aromatic when crushed or rubbed. They range in height from 2 to 6 feet in height and 1- to 3-foot spread. Their profusely flowered spikes of tubular flowers are straight or flaring and vary greatly in size and color depending on the species or cultivar. Salvia colors range from blue, purple, pink, red, white and yellow.
Uses
Salvia officinalis is common sage, used in cooking. Other salvias are used as bedding plants, in planter boxes, as cut flowers and as accent plants. Salvias in the landscape attract butterflies and hummingbirds. Although several Salvias will tolerate frost, they are usually grown as summer annuals.
Culture
Grow salvias in full sun and in well-drained soils. Varieties are available that will bloom in part-shade conditions. Salvias will not do well in heavy, wet soils. Propagate salvias by seed or softwood cuttings taken throughout the growing season. Plant salvias once the danger of frost has passed. Once established, salvias require little care. Remove spent bloom spikes to encourage continuous flowering. Frost tolerance is variable by species, but Salvia hardiness ranges from USDA zones 5 to 11.
Selected Species
Salvia splendens, also known as scarlet sage, is a branching shrub varying in height from 8 inches to 8 feet, depending on the cultivar. It has bright red flowers, blooming from summer until frost.
Salvia farinacea is a violet-blue flowering sage, growing 24 inches tall and blooms from summer to fall.
Salvia x jamensis varies in color depending on the cultivar and includes flowers of red, orange, pink or yellow. It grows from about 2 feet to 3 feet in height.
Problems
Few problems plage salvias, and most are due to improper growing conditions or greenhouse cultivation. Avoid growing salvias in cool, wet weather. Pest and diseases of salvia include aphids, spider mites, whiteflies, powdery mildew and Botryis blight. Your local county extension office is a good source of disease and pest information.