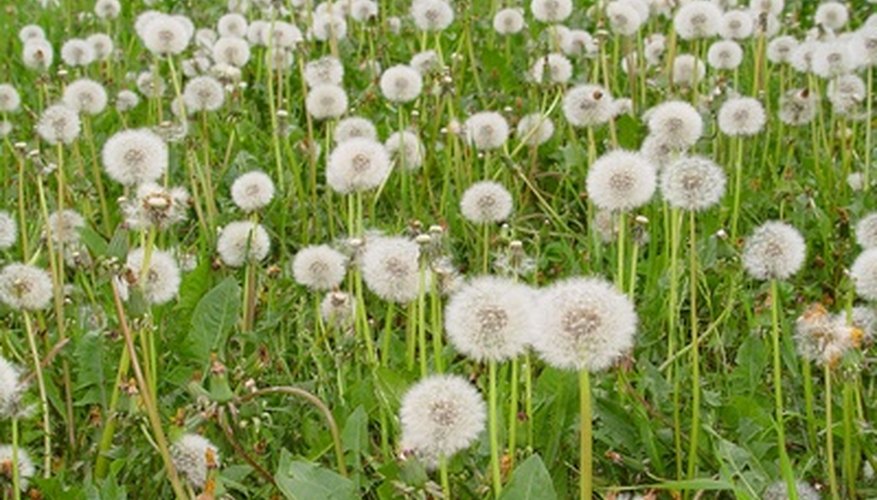 Fighting weed growth in your lawn starts with proper lawn maintenance. According to University of California's Integrated Pest Management Program, "weeds occur in every lawn, but they seldom become problems in well-managed, vigorously growing turfgrass." Keep your lawn healthy to stop the weed from coming up in the first place, then treat the ones that do come out.
Grow an appropriate grass for your climate. Cool season turf grasses such as tall fescue will grow well in northerly climates, whereas warm season grasses such as bermudagrass will thrive in warmer, southerly climates.Plant the turfgrass you do choose in the correct season to let it get a head start on competing with weeds. Cool season grasses can be planted in either the fall or the early spring, while warm season ones prefer mid-spring to summer.
Pull weeds as soon as you see them, particularly in a newly planted lawn. The less chance weeds get to spread, the easier it will be to keep them under control.
Water your grass deeply and infrequently to encourage healthy root growth. The amount of water your lawn requires will vary from species to species and also by your climate and soil conditions. In general, water warm season grasses once or twice a week and cool season ones about three times a week.
Mow your grass frequently. Trim off 1/3rd of the blade length or less on each mowing.
Remove thatch with a thatching rake every time 1/2 inch of thatch builds up. You may need to do this anywhere from anually to once every five years.
Aerate your lawn with a plug core aerate at least once a year to encourage healthy root growth. If you have heavy clay soil or heavy foot traffic, aerate twice a year or more.
Indentify which weeds are infesting your lawn and apply spray herbicides which target your problem weeds if pulling weeds by hand isn't doing the job. Be sure to select an herbicide that does not harm your turf grass, since some herbicides are toxic to certain grasses.