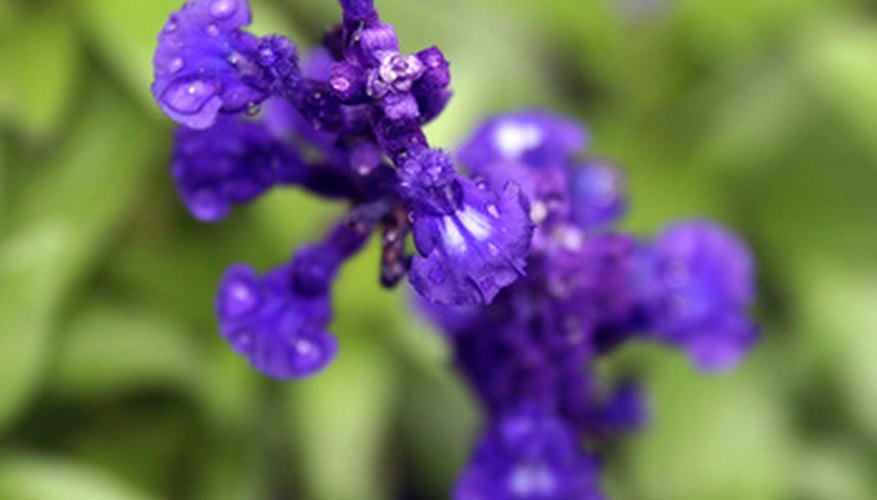 Add Salvia mexicana to your garden for a plant that grows interesting foliage very fast during the spring and summer and produces showy, dark blue flowers in the fall. It does not have a strong aroma for most people, however, the scent of Mexican sage nectar attracts hummingbirds, butterflies and bees to your yard. This sage is suited best for gardens in warm or hot climates.
Description
Salvia mexicana can grow to 4 or 5 feet high, under most conditions. The United States National Arboretum characterizes it as "one of the fastest growing of the salvias." In its native environment, in Central Mexico, it grows on the edge of forests and in open woods. In warm areas, it will keep its foliage year round. It can produce blue, purple or yellow flowers. The calyx colors vary, as does the form of the leaves.
Care
Salvia mexicana requires full sun to partial shade. Mexican sage is a native of Mexico and fares best in USDA hardiness zones 8 to 11. Gardeners in cooler zones may be able to grow the plant successfully, however, the plants may take longer to bloom and likely will die with the first hard frost. In warmer climates, give it some shade during the hottest part of the day. In cooler climates, give it as much sun as possible and try to place it near a brick wall or a large stone outcropping, something that will release heat during cool evenings. Give Mexican sage moist soil that drains well. To propagate the plants, divide them in spring. To create a more robust-looking plant, trim the edges to force the sage to develop fuller foliage.
Landscaping
Place Salvia mexicana toward the back of a layered border to take advantage of its height. Add Salvia mexicana to your garden when you want a plant that blooms late in the season. The United States National Arboretum says Salvia mexicana is "one of the last of the salvias to bloom in the autumn when many other salvias are beginning to look a bit worn." It is attractive in mass plantings, but gardeners can grow Mexican sage as specimen plants, in the ground or in containers. As a container plant, the bright leaves and small blue flowers will brighten a corner of a patio or deck.
Problems
Fine Gardening magazine identifies stem rot, powdery mildew, fungal leaf spots, rust, whiteflies, aphids, mealybugs and spider mites as problems that may besiege Salvia mexicana. Many of these problems stem from hot, humid air. Pruning affected plants may help to increase air circulation around them and reduce the problems. Check the plant for signs of problems every few weeks during the growing season to catch problems at an early stage.
Types
There are a few noteworthy cultivars of Salvia mexicana. Arguably, the most popular cultivar is limelight. It has large, showy, purple-blue flower clusters and bright chartreuse calyces. The Fairchild Tropical Botanic Garden notes that limelight can become "leggy." A lesser-known cultivar is Compton's Pride, which Fairchild's describes as having "dark, lustrous leaves and dark, velvety purple flowers nestled in greenish black calyces." The minor cultivar blooms earlier than the others and that may make it a better choice for gardeners in cooler climates.