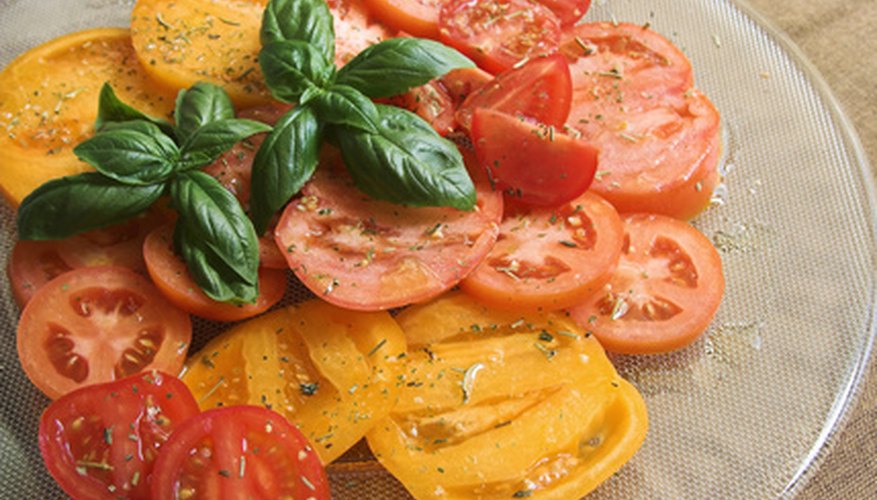 Heirloom tomatoes bring a wide variety of colors, textures, shapes and flavors to the kitchen that mass-produced tomatoes cannot provide. If you don't have the space or time for a full-fledged outdoor garden, heirloom tomato specimens grow quite well when planted in indoor containers any time of the year. Whether you choose a cherry, paste or smaller slicing variety, homegrown heirlooms will increase the flavor and nutritional value of salads, soups and sauces year round.
Choose heirloom varieties that will suit your tomato needs. If you want to make sauces and salsa, select paste and smaller slicing varieties. For snacking, heirloom cherry or grape varieties are perfect for fresh eating and salads. Avoid the larger beefsteak heirlooms, unless you have ample indoor space and containers for staking and support.
Select a location that offers at least six to seven hours of sunlight per day, daytime temperatures between 70 and 75 degrees Fahrenheit and nighttime temperatures no lower than 65 degrees Fahrenheit. Use growing lamps for supplemental light and heat.
Prepare seed-starting containers by filling each one to the rim with slightly moistened potting mix.
Plant three to four tomato seeds at a depth of 1/4 inch in each container.
Set peat pots on a tray and cover with a clear plastic bag to maintain sufficient moisture levels for germination. Leave room for some air circulation, but do not allow the soil to dry out during the germination process. Misting peat pots during germination allows for adequate moisture retention.
Transplant seedlings to their final location once they grow to be 1 to 1-1/2 inches tall. For individual plants of smaller variety, a 6-inch container is suitable. Use a large planting container (12 inches or more) if you wish to plant two heirloom seedlings in one location.
Water and feed tomato plants every seven to 10 days with a tomato-specific fertilizer, following manufacturer's directions. Keep fertilizer from contacting stems or leaves by scattering it around the circumference of the plant. Add enough water to moisten soil but do not saturate it.
Begin hand pollination once heirloom tomatoes start to flower and the blooms open. Gently tap on main branches and stems where blooms are located to loosen and distribute pollen. Repeat this process for several days until all blooms have opened.