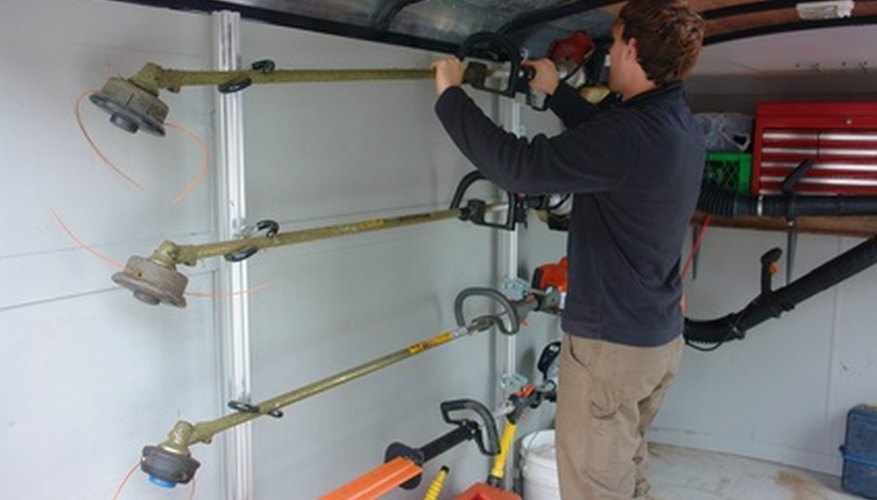 A Toro trimmer is a string trimmer that cuts grass using a monofilament line instead of a blade. The line is attached to a hub that turns at a high velocity at the end of a drive shaft. This makes a string trimmer lightweight, which allows an operator to use it for light duty cutting in tight locations and around objects where a lawn mower can't go or that a blade cutter may damage. Replacing the trimmer line is part of regular maintenance for your Toro trimmer.
Grasp the hub in one hand to hold it in place on the drive shaft. Then grasp the cap of the hub with the other hand. Turn the cap counterclockwise and pull it away to remove the cap and spool.
Release the hub and grasp the spool. Gently pull it off of the cap and lay the cap aside.
Wipe the cutting head, spool and cap with a clean cloth to remove pollen and grass debris. Unwind the remnant of monofilament line and discard it.
Inspect all parts for damage.
Cut a length of new line that is 25 feet long.
Insert one end of the line into the slot on the spool. Wind the line in the direction indicated by the arrow printed on the side of the spool. Do not allow the line to cross as you wind it. You should have about one-fourth inch of space between the top of the line roll and the end of the spool. If you haven't, then you have overwound your spool. Shorten your line and rewind the spool.
Slide the line into the eyelet on the head of the trimmer. Insert the spool into the head.
Hold the line and spool in place with one hand. Put the cap onto the spool. Rotate the cap and spool clockwise to secure them in place.