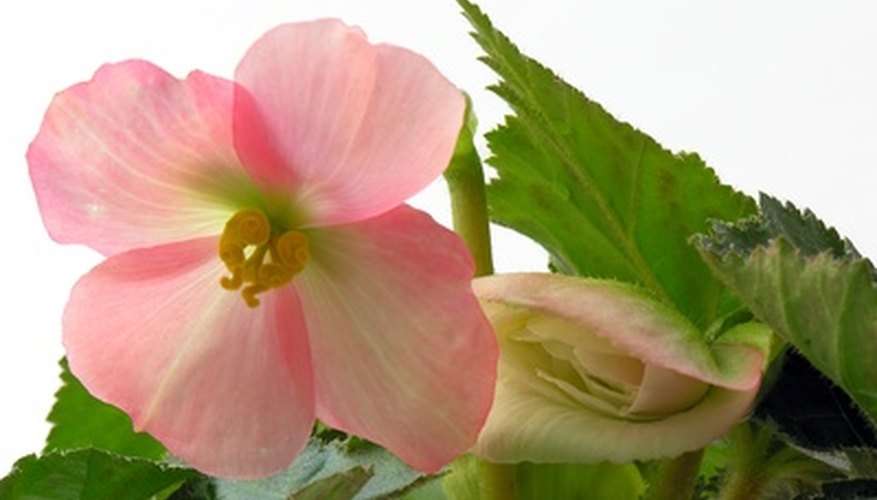 California is home to flowers that not only tolerate direct sun, but need and thrive on it. The flowers can take a bit of shade, but to produce the best blooms and reach their full potential, they need as much direct sun as they can get.
Wax Begonia
Wax begonia (Begonia x semperflorens-cultorum) is a perennial that grows from 6 to 18 inches tall and produces oval leaves that can be green, mahogany, bronze, red or variegated. The flowers are either single or double–flowers with extra petals–and red, pink, rose or white. Plant wax begonias in bright sun and a rich, organic, moist soil. The plant will grow as a perennial in USDA hardiness zones 9 to 11. In the cooler areas of California, it is grown as an annual.
Crocosmia
Crocosmia (Crocosmia X crocosmiiflora) is also known as montbretia. The plant grows as large, dense clumps that produce pale green, straplike leaves that grow from 2 to 3 inches long and 1 to 2 inches wide. The red, orange or yellow funnel-shaped flowers appear in the summer and grow to 2 inches across in a long cluster. The plant will die back to the ground in the winter and reappear in the spring. Plant crocosmia in full sun and a well-drained soil. The plant is hardy in zones 6 to 9 year-round. When grown in zones 4 and 5, the roots have to be dug up in the fall, stored indoors and replanted outdoors in the spring. Zones 10 and 11 are too hot for crocosmia.
Blue Daze
Blue daze (Evolvulus glomeratus) grows up to 1 foot tall and 2 to 3 feet in diameter. The plant produces egg-shaped leaves that are covered with down that grow 1 inch long and ½ inch wide. The lavender or blue flowers are funnel-shaped, measure 1 inch across and only last for one day. The next day, the flower is replaced by a new one. Plant blue daze in full sun and a soil that is sandy and well drained. The plant is hardy in zones 8 to11, the hottest zones in California.
Rain Lily
Rain lily (Zephyranthes grandiflora) is also known as pink rain lily, pink storm lily and rosepink zephyr lily. It produces grasslike leaves that grow directly from underground bulbs. The flower blooms throughout the year, but only after a rain that follows a dry spell. The bloom appears at the top of a 7-inch-tall stem and takes one or two days to fully open to a rose-colored flower that grows to about 3 inches long and 3 inches across. Plant rain lilies in full sun and a soil that is moist and well-drained. The plant is hardy in zones 8 to11 but can be grown in the colder areas if it is given a good mulch over the winter. In the coldest areas, it needs to be brought in for the winter and replanted outside in the spring.