Prepping the Driveway for Repairs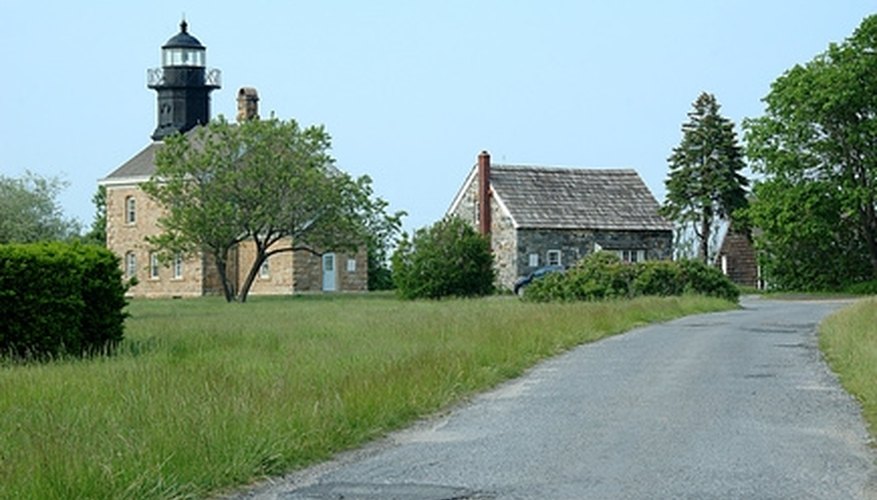 Sweep your entire driveway with your push broom to remove all loose dirt and debris. You want to use a push broom, as this type of broom will provide more leverage in dislodging broken pieces of asphalt.
Rinse your driveway with your high-pressure water hose. You can opt to use a regular garden hose; however, a high-pressure hose proves more effective as dislodging debris firmly affixed to the surface of the asphalt, such as gum.
Wash your driveway by pouring detergent over areas of the driveway with stains from grease and oil, or any other stubborn stains. Use your scrub brush with the long handle to scrub those areas and clean them. Finish washing by rinsing the driveway one more time to remove all detergent residues from the surface.
Repairing the Driveway for Resealing
Fill in all cracks visible on your driveways surface. Fill all wide cracks with sand first, according to Mr. Fix of Cornell's True Value Hardware in Eastchester, N.Y., in his interview with Jay Romano of the New York Times. Top off those cracks with the driveway crack filler and proceed to fill in all other smaller cracks, no wider than a 1/4-inch with the filler. When you apply the filler, use your trowel to smooth out the spread.
Patch all holes in the driveway with your driveway patch mix according to the manufacturer's instructions. Use your trowel to fill in the holes, pack it down firmly and smooth the surface.
Leave the cracks and patches to settle and dry overnight.
Sealing the Driveway
Mix the sealer according to the instructions provided by the manufacturer. Each sealant will have its own specifications; make sure you follow the instructions closely.
Pour your sealant onto your asphalt driveway in sections of about 4 feet, spaced about 2 feet apart.
Pick up the applicator brush and spread the sealant out over the driveway, evenly. Use the squeegee side of the brush to spread the sealant and then the bristle side to work the sealant into the asphalt. Once complete, allow the sealant to dry for 24 hours before walking or driving on the driveway.