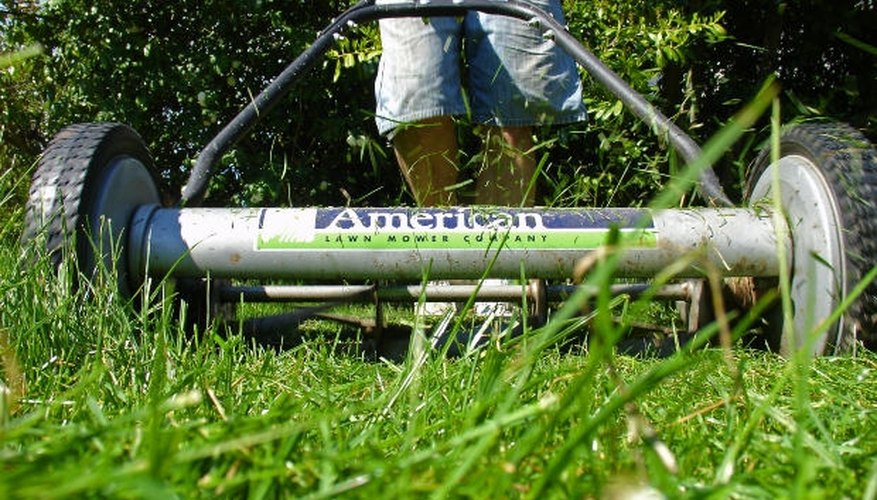 We've all looked at the lush green of a golf course and then reached with itchy fingers for the fertilizer. But before you get carried away with stinky manure or other noxious nitrites, you should consider whether your lawn needs fertilizing. The answer, surprisingly may be no.
Natural Fertilizer
Once, common wisdom was that grass clippings should be bagged and sent to the landfill. Leaving clippings on your lawn would choke out the blades of grass. But that wisdom is a thing of the past. It's now known that grass clippings are a good natural fertilizer. By leaving the nitrogen clippings loose on your lawn to deteriorate, you are providing up to 25 percent of your lawn's fertilizer needs.
Testing the Soil
If you already have rich soil, your lawn can get all its nutrients without fertilizer. Before you start to fertilize your lawn, you should have the soil's nutrient content tested by your local Cooperative Extension office. Once you have the results, you will know how much nitrogen, phosphorous, lime or potassium that your soil needs.
Grass Selection
Just as not all humans are alike, no grass is created alike. Different grasses have different fertilization needs. For example, warm season grasses like Buffalo Grass should be fertilized twice a year. Whereas a cold season grass such as Bermuda can be fertilized up to five times a year.
Application Rate
Once you have factored in the needs of your lawn, you can calculate the amount of fertilizer that your lawn will need for the entire year for your climate. You can check with your local Cooperative Extension office for this figure, which is usually represented in pounds per square feet. Then divide it by the number of times that you want to fertilize your lawn to come up with the figure for each time you fertilize. In general, a lawn with healthy soil will require approximately three pounds of nitrogen per 1,000 square feet of lawn in full sun. Lawns that are in constant shade will require half as much nitrogen.
Calculating Fertilizers
To figure out the amount of fertilizer to use on your lawn, divide the amount of nitrogen that you wish to add to your lawn by the amount of nitrogen in the fertilizer in the bag (this number will be the first of three listed on the bag). Multiply this answer by the square footage of your lawn and then divide the total by 1,000. The resulting total will be the number of bags of fertilizer that you need for your lawn.