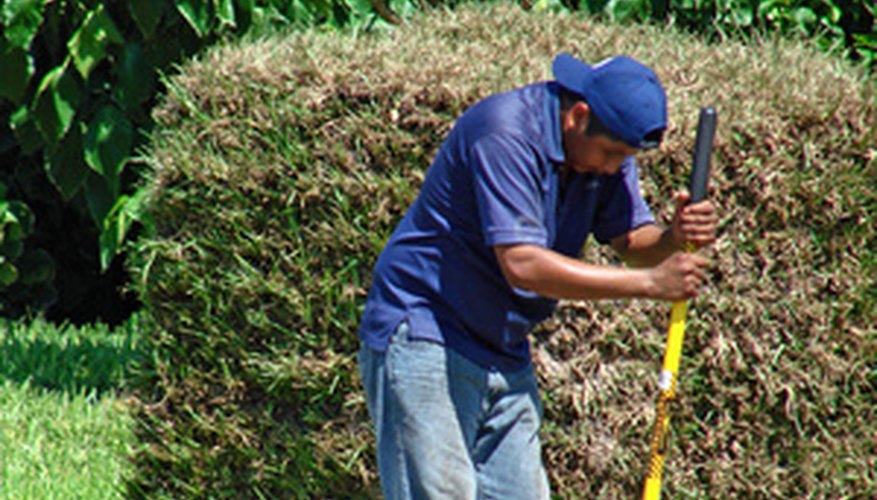 Water grass (Paspalum dilatatum), is a tall perennial warm-season grass that commonly invades lawns. If you find tufts of water grass growing in your turf, there are several effective control methods that you can use to effectively eradicate it. But the best way to be rid of water grass for good is to improve the health of your lawn. Regular watering, mowing and fertilization will create densely growing turf that will resist weed invasions.
Dig clumps of water grass up with a shovel. Remove its root system as well as its foliage (even small sections of roots left behind can regenerate). This is the safest method for removing water grass in lawns. Because this is a grassy weed, any herbicide formulated to kill it will also kill the surrounding grass.
Stop water grass seed from spreading to new areas. Re-seed any bare spots in your lawn, including those left behind by the water grass you just dug. Spread black plastic mulch or landscape fabric over garden areas to prevent the seed from establishing itself there.
Monitor your lawn for re-growth. If you can catch sprouting water grass before it matures and sets seed in late spring/early summer, you can kill the next generation of water grass before it establishes itself.
Tips
If there are too many clumps of water grass in your lawn to dig up, spray them with a postemergent herbicide that contains MSMA or CMA or any postemergent herbicide listed for use on crab grass. Preemergent crabgrass herbicides can also be used to prevent water grass seed from germinating. Follow the manufacturer's instructions when applying herbicides to your lawn or garden.

Clean your mower blades after each use to prevent spreading water grass to new areas.