Swimming is one of the most popular outdoor activities throughout the summer months. When used by numerous friends and family members, there is a significant emphasis on hygiene and keeping the pool water fresh and clean. A pool pump is one of the tools used to achieve this, as it is primarily designed to remove dirt and bacteria from the water and ensure that it is filtered of all impurities. In order to maintain the integrity and flow of the water within a pool, the pump itself needs to be monitored to ensure that it is performing as required.
Excess Noise From the Pool Pump
The pool pump works by drawing water from single or multiple suction ports, and then distributing it through the filter and water heating systems. The water then returns to the suction ports to complete the entire process. A crucial component of a pool pump is the electric motor, and when the motor becomes worn or damaged the pump's function becomes affected. An indication of a worn motor is an excess of noise or screeching when in operation, and this becomes worse in extreme cases. Noise from the pool pump can also indicate cavitation, where water is being starved or restricted between separate functions. In this instance, the pump will make an audible grinding noise.
Discolored Water in a Swimming Pool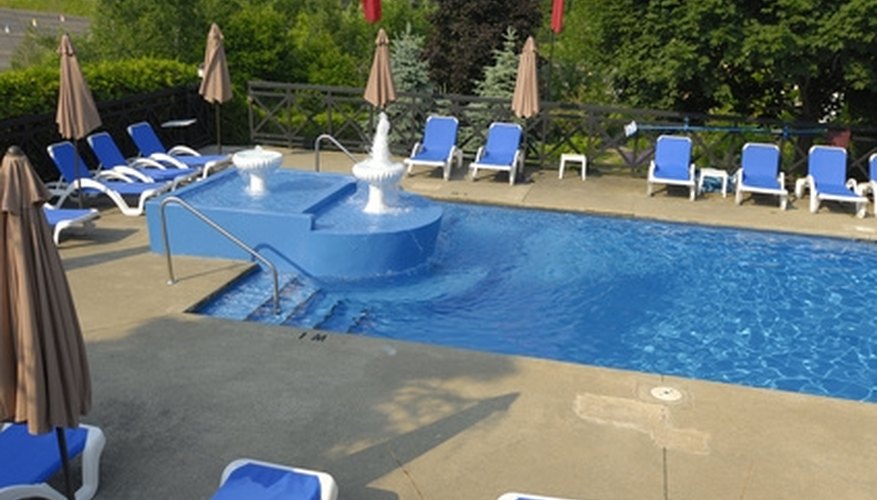 The color of water in a swimming pool should be a light shade of blue, although this depends on the color of the pool and the light in which it is viewed. However, when bacteria or dirt particles are infiltrating the water in a swimming pool, the color will gradually change to shades of green. This modification in the color of the water can be a clear indication that a pool pump is either worn or faulty, and inadequately performing the task of filtering and purifying the water.
Reduced Levels of Water Pressure Within the Pool
Another sign of a wearing pump is a reduction in the amount of water that a pump can move at a certain velocity. This motion is created between the pump's motor and the impeller, which work to create the water's velocity. The electric motor drives the impeller, which is safely encased in a pump diffuser. The impeller adapts flowing water into water pressure, to a level determined by the horsepower of the pump motor. Any noticeable drop in water pressure or water velocity often indicates a worn pump or a malfunctioning and faulty impeller.