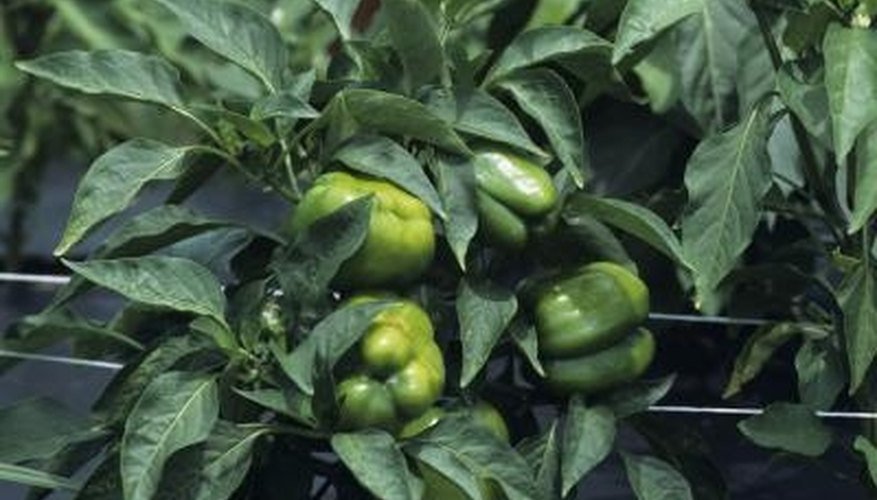 Pepper plants grow well only within a particular range of soil and air temperatures. Temperatures outside that range can prevent seeds from germinating and stop the growth of pepper transplants. Unfavorable temperatures later in the year cause pepper plants to stop blooming and temporarily halt pepper fruit production. Because peppers need a long growing season to produce a bountiful crop, any interruption in the growth cycle seriously reduces the pepper yield.
Temperature
Most peppers grown in the United States belong to the same species. Varieties of Capsicum annum range from the bell pepper to the jalapeno and habanero chilis. Like tomatoes, peppers originated in warm regions of South America and Mexico. Although peppers are perennial plants, the plant shows no frost tolerance and survives in northern climates as a warm season annual. Northern growers extend the growing season by starting pepper plants indoors two and-a-half to three months before setting plants in the garden.
Germination Problems
Getting peppers started indoors requires higher temperatures than the average U.S. home provides in winter. Peppers germinate best at a soil temperature of 80 degrees Farenheit. Commercial growers start peppers in heated greenhouses, but home growers could plant pepper seeds 1/2 inch deep in peat pots and place the covered starting tray in a sunny window. Without the greenhouse effect of a clear plastic cover, pepper seeds may not sprout. When plants emerge, remove the cover. Peppers grow best after emergence at daytime temperatures of 70 degrees F. and night temperatures no lower than 60 degrees F., according to Colorado State University Extension.
Tranplanting Problems
Setting pepper plants in the garden too early could halt pepper growth and weaken the plants. If air temperatures fall to between 50 and 55 degrees F. at night, pepper plant leaves turn yellow and pepper flowers fall. Cold wet soil early in the season could cause phytophthora root rot, a fatal fungal infection. Mounding the soil a week before planting and covering the bed with black plastic heats the soil and improves drainage. Peppers produce larger crops when grown under black plastic mulch with drip irrigation, according to Oregon State University. Floating row covers keep daytime air temperatures warmer and prevent chilling of the peppers at night.
Production Problems
Pepper plants stop producing pollen when minimum night air temperatures rise above 70 degrees F. Hot dry winds intensify the problem. Infertile blooms drop off the plant, and the plant produces top growth without peppers, leading many gardeners to suspect over-fertilization. Abundant nitrogen also increases top growth, but the University of Illinois Extension notes studies show peppers produce well with high amounts of fertilizer. The extreme summer heat prevents some pepper types from setting fruit.