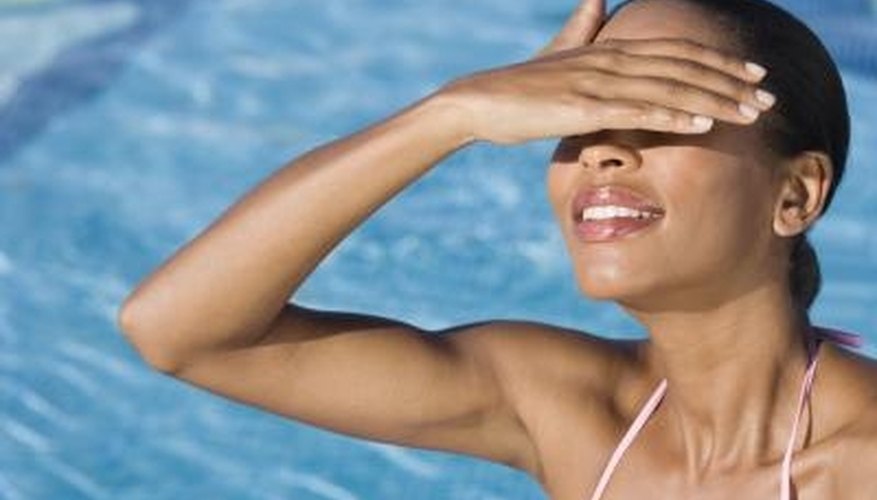 A solar cover for your pool, also known as a solar blanket, is a vinyl cover that absorbs the heat generated by the sun and uses it to warm the pool water. Even though the solar blanket is a cheap solution compared to a complete pool heating system, the solar cover can sometimes cause problems and has drawbacks.
Too Hot Can Be Bad
The biggest problem with solar covers can be the possibility that, in extreme temperature, the cover can actually facilitate the growth of green algae. Oftentimes people with seasonal temperatures of 80 degrees in the summer months will experience heat waves and continue to use a solar cover. If the temperature exceeds 90 degrees for more than a few days, there is no need for a solar cover because the water will probably be warm enough. If you keep the cover on the pool, too much heat will get trapped and the chances of algae growth increases due to the warm temperatures.
Rolling Pains
Depending on your pool size, it might be too much of an inconvenience to constantly apply and remove the solar pool cover. The continuous dragging of the cover of the pool railing increases the chances of it tearing, which will render it useless because the heat will escape from the cover and fail to heat the pool. It forces the user to purchase a solar reel, which may cost more than the actual cover.
It's Either On or Off
Unlike the costly electric or even solar power pool heating systems, you cannot control the temperature of the water. With complete heating systems, you can set a water temperature and the system will automatically turn on or off to adjust to the temperature setting. The solar cover is either on or it's off. This means that there is no controlling how warm the water gets. You must remove the blanket when you feel the water is warm enough or when you are ready to use the pool. You may never achieve the ideal water temperature with a solar cover. The solar cover will work, just not as nice as the heating system.
Durability and Sizing
The durability will come into question unless a solar reel is used. The cover will not last very unless it's rolled up and stored away properly when it's not used. Although most pools users will be able to find a solar cover pre-trimmed to most popular pool sizes, irregular shaped in-ground pool users are not so lucky. These covers will have to be trimmed to the size of the pool or you will have to have it custom ordered, which will cost more money.