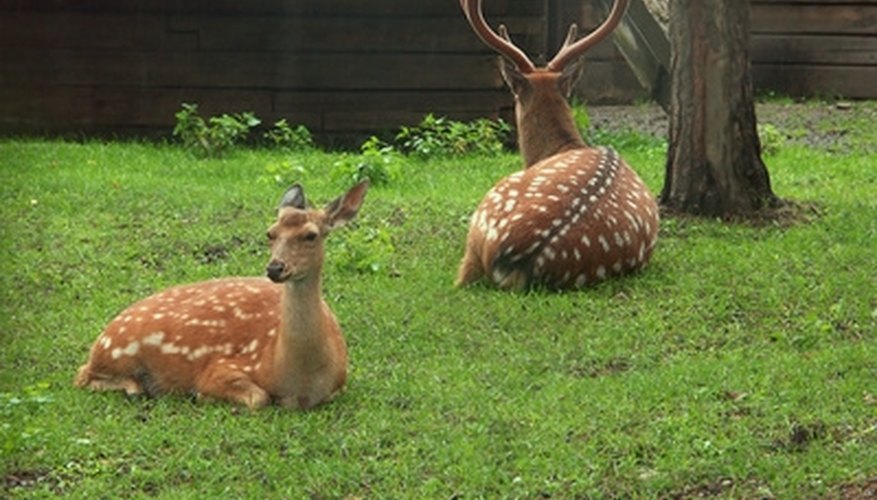 Deer are herbivores and are particularly fond of tender young foliage. They will leap 6-foot fences to get to the delicacies in your garden and can wreak havoc on the plant life in the home landscape. There are chemical deterrents, but chemical control poses safety concerns for pets and children. The Internet is full of suggestions for safe and homemade repellents, including human hair.
The Theory
The theory behind using hair as a deer repellent is that man is a natural enemy of deer, so the deer run from the scent of humans. As a general rule, deer flee when you stumble upon them grazing, but this might be more because they are startled than because they recognize you as a predator. It also is possible that human hair simply smells bad to deer, so they avoid it.
Finding Human Hair
Landfills take in an amazing 200,000 pounds of human hair every day. However, the amount of hair you can collect every day from your hairbrush probably is not enough to threaten deer. You can check with a local barber shop or beauty salon; they usually sweep up hair and throw it away, so they might be happy to give it to you. Explain why you want it, and be sure to get unprocessed hair.
Using the Hair
Once you have gathered the human hair, put it in mesh bags and hang it from trees and bushes where deer will brush up against it, about 28 to 32 inches above the ground. You can use onion bags or nylon stockings for the mesh. For herds of deer, place the bags 3 feet apart and replace them monthly. You can use them all year or just when the feeding behavior is at its worst.
Does it Work?
Apparently, human hair works well enough that even government agencies like the West Virginia Department of Natural Resources advocate using it as a deer repellent. However, it seems to work better in some situations than others. For example, it is not effective for large areas or heavily populated areas, where the deer are used to the smell of humans. Human hair might work best to protect a small garden where there are other sources of food for the deer.
Other Deer Repellents
Some other home remedies for deer repellents include hanging dryer sheets and soap from trees. A North Dakota State University recipe for deer repellent also can repel rabbits. Puree three hot peppers with enough water to thin them. Strain the mix, and then add 2 tablespoons of oil, a squirt of household glue and 2 drops of liquid dish detergent. Mix this with 10 parts water, and spray it on foliage in the garden. Spray again after rain to keep it potent.