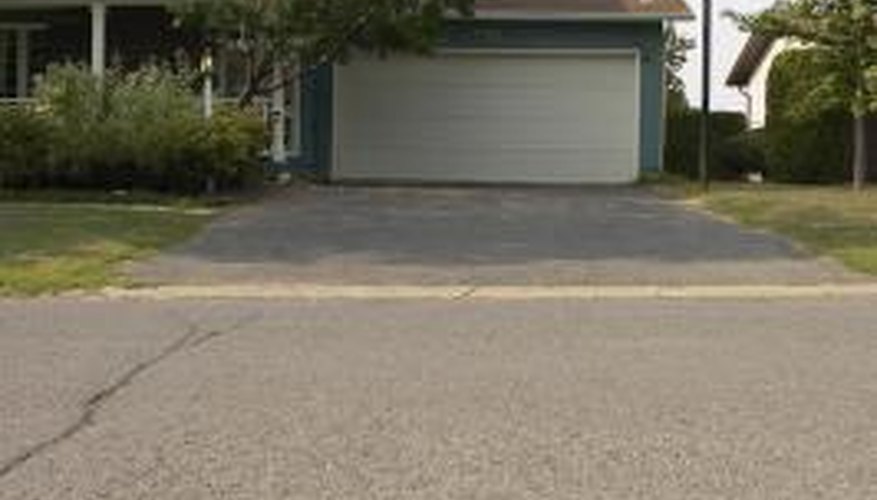 When your driveway cracks or chips, it is important to repair it right away to prevent larger cracks, holes and other damage. Local hardware stores often offer a large selection of sealants to choose from. Knowing about the different types of sealants will help you choose the best sealants for your specific driveway.
Coal vs. Asphalt Sealants
Most sealants you will find at major hardware stores are either coal tar-based sealants or asphalt-based sealants. Coal tar sealers have a stronger chemical composition that makes them more resistant to motor oil, gasoline and other chemicals, keeping the asphalt stronger. Asphalt-based sealants do not offer as much resistance to chemicals and substances such as motor oil, but do offer less odor and cause less burning. A few states, such as Washington, have banned coal tar sealants because of the possibility they may create toxic waste in the environment.
Plain vs. Filled Sealants
Sealants come in plain and filled varieties. Plain sealants often cost less than filled sealants and offer a thin liquid that is spread over a driveway. Filled sealants are mixed with other materials, such as gravel or sand, to provide a denser mixture that also helps fill in any cracks found in the driveway. For a new driveway without any cracks, a plain sealant may be all that is necessary. However, for an older driveway, a filled sealant will hold up longer and fill even hairline cracks that you may not be able to see at first glance.
Hot vs. Cold Sealants
When choosing a sealant, you may also have to choose between hot pour and cold pour sealants. Hot pour sealants have proven to be successful at sealing driveways with large cracks because the heat allows the sealant to create a stronger bond with the existing driveway. According to a study by the University of Texas at Austin's Center for Transportation Research, hot pour sealants had a higher treatment effectiveness level than cold pour sealants when tested on roadways in different metropolitan areas.
Brands
Rated one of the top driveway sealants by customers at major hardware stores, Black Jack Drive Seal 200 offers a filled cold pour sealant for your driveway. Latex-ite's Sand-Mix Driveway Coating offers a quick-drying sealant that is also rated highly by customers of major hardware stores. If you choose to have an asphalt and paving company seal your driveway instead of doing it yourself, ask about the specific type of sealant(s) they use to make sure you are getting a quality product that will stand up over time.