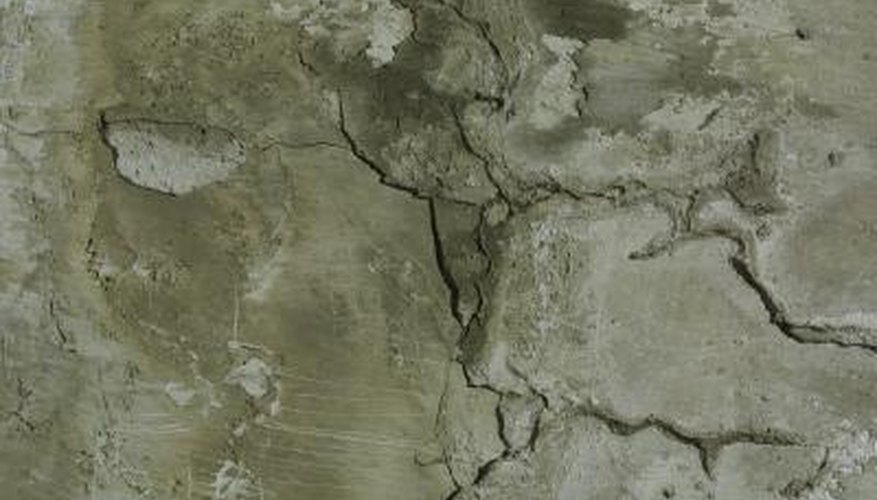 Cement is crucial for a number of commercial and residential construction projects. Driveways, garages and home foundations are all frequently constructed using cement mixed with sand and water. Caulk seals gaps between concrete and other materials. It also seals cracks that appear over time. Using the right caulking for the job ensures that your caulk will create an airtight seal and last for as long as possible.
Need for Caulking
Even with the preventative measures, cracks in cement are common. The Portland Cement Association notes that concrete shrinks as it dries. This process sometimes results in cracking. Pressure, such as that experienced by your home's foundation, can also cause cracks. Over time, moisture builds up within cracks. That moisture freezes in cold weather, causing the cracks to expand. Caulking protects your cement by preventing cracks from getting wider. Caulking between cement and another surface, such as a garage wall, prevents moisture buildup within the installation's seams and gives the seam a more streamlined and aesthetically pleasing appearance.
Type of Caulk
Urethane or polyurethane caulk works best for sealing cracks and gaps in cement, according to The Family Handyman website. Urethane caulk is flexible, waterproof and durable enough to withstand exterior pressures, such as extreme temperatures, moisture and rapid temperature changes. You can purchase traditional urethane caulk or polyurethane caulk -- a urethane caulk that contains polymer additives for extra flexibility.
Preparing the Area
Before you begin caulking, prepare the area by brushing away loose pieces of concrete, dirt and other debris with a wire brush. If the gap or crack contains old caulking, scrape the old caulk away with a razor blade. Use a caulk softener to remove stubborn, dried-on areas of caulk. If you fail to clear old caulk and other debris from the cracks and gaps in the concrete, your new caulk will not adhere properly to the surface and will not provide your cement with the protection it needs.
Caulking
For best results, use a caulk gun and hold the gun at a 45-degree angle when applying caulk. If the gap or crack you need to fill is wider than 1/4 inch, insert a foam backer rod into the gap before caulking. The U.S. Department of Energy notes that caulk is most effective when it reaches the bottom of an opening. The backer rod fills the open space while giving the urethane caulk a surface to which to adhere. Properly applied urethane caulk can last 10 years or longer, but when it begins cracking and peeling, it needs to be replaced.