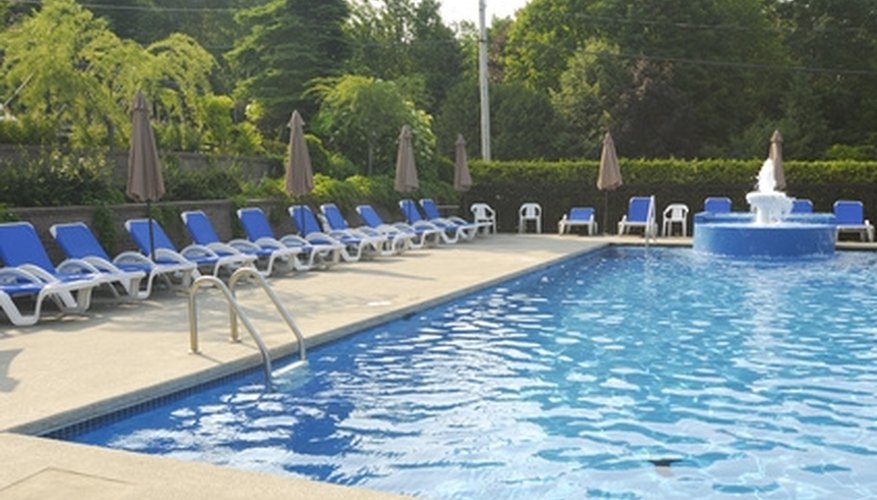 Installing and starting up a pool's pump system readies the pool for full operation. Pumps like the Hayward Super Pump help circulate the huge body of water a pool contains. Regular and proper circulation of the pool water eliminates the risk of bacteria growing in the water due to stagnation. Starting up a pump system for the first time consists of hooking up the pump to the plumbing, readying the pump to catch prime and supplying power to the pump.
Set down the Hayward Super Pump near the existing pool hard plumbing pipes. Ensure the pool system is turned off. Hook up the Super Pump system to the pool plumbing via the unions located near the pump's equipment pad. Tighten the unions with channel locks or clamps to ensure a good seal. If no unions exist, cut the existing PVC plumbing and use glue and primer to glue the PVC to the pump plumbing outlets. Allow the glue to dry for several hours before moving on.
Unscrew the Super Pump's lid and ensure the pump basket is firmly seated into place inside the housing. Fill the pump housing holding the pump basket with water to help the pump catch prime. Screw the lid back onto the pump housing by hand and do not overtighten the lid to avoid damaging to the system.
Plug in the Super Pump system to a wall outlet or other power source. Turn on the pool system and observe the pump's clear lid. If water fails to fill and flow through the pump and is not visible through the lid, turn off the pool system, unscrew the lid and fill the pump housing with water. Fix the lid back onto the pump and turn on the system. Repeat the filling process until water properly flows through the pump.