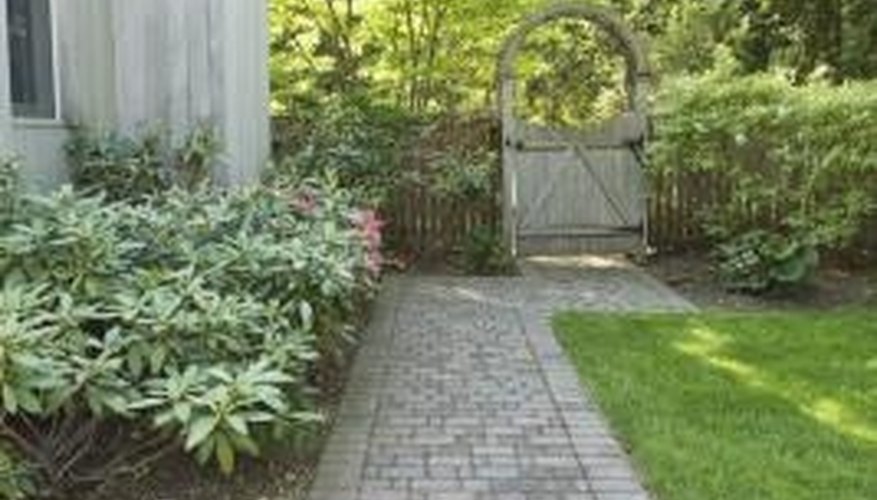 Being able to install your own pavers opens a realm of possibilities for laying new walkways, patios, driveways or sidewalks in different areas of your landscape. Pavers are often made of stone, concrete or brick, allowing you to choose the material that complements your landscape best. With proper preparation, you don't need the help of a professional to lay pavers. However, you may want a friend or two to help, since pavers can be heavy.
Mark off the area for your paver installation. Trace the perimeter with marking paint.
Dig out your installation area to a depth of 7 inches, using a shovel. Firm up the soil of the excavated area with a plate compactor or hand tamper.
Lay landscape fabric across the entire excavated area, cutting it to fit with a utility knife and slightly overlapping any seams. The fabric helps with rainwater drainage and stops the soil from shifting as you continue the installation.
Spread a 4-inch layer of crushed stone or paver base material evenly across all of the landscape fabric. Smooth out the surface with a garden hoe or rake. Firm up and flatten the stones with the compactor or tamper.
Cover the base material with 1 inch of sand. Moisten the sand and spread it evenly across the whole surface. Run the compactor or tamper over the sand to create a completely level installation surface.
Lay your pavers according to your design. Set them gently into place -- do not drag them through the sand.
Cut pavers to fit as needed with a diamond-blade wet saw. Wear ear protection, gloves, goggles and a dust mask when cutting. Install all the full and cut pavers in your project area.
Trim the installation area with plastic or metal edging. Set the edging material firmly against the pavers. Hammer stakes into the designated slots of the edging to hold it in place. This will stop the pavers from shifting under weight.
Spread a layer of sand over the pavers. Force the sand into the joints between the pavers by sweeping the surface with a broom. Moisten the sand and fill in any gaps to make sure the joints are completely full. Compact the surface once more to settle everything in place.