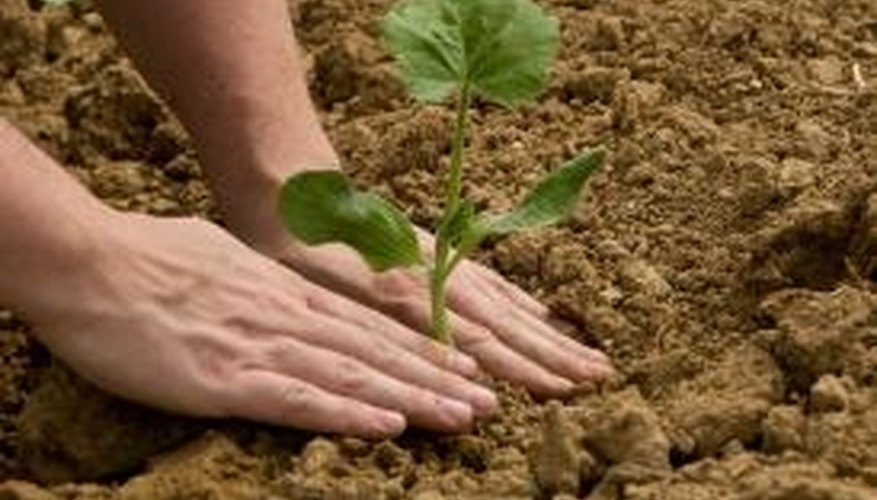 Gardeners often check the soil's pH before planting, because many plants cannot grow in pH levels that are too high or too low. For example, rhododendrons thrives in soil with a high, or acidic, pH, while clematis prefers soil with a low, or alkaline, pH. You can increase the soil's pH level by adding acidity to it, so that it will be healthy for the plants you intend to grow.
Place a small amount of soil from the area where you plan to garden in the test tube of a test kit, following kit instructions.
Add several drops of the acid-measuring solution, as per the instructions on the test kit. Shake the test tube and let it sit for an hour or so, depending on the instructions.
Compare the color of the solution in the test tube with the color chart, and find the color that best matches. The pH next to the color on the chart is the pH of your sample.
Look at the pH requirement range for the plants that you plan to put into the soil. Subtract the current pH of the soil from the lowest number of the range. This will determine the number of pH points that need to be added.
Determine whether the soil is sandy, as opposed to loamy, clay, or peat-heavy.
For each pH point in your calculation measure out 1.2 ounces of rock sulfur per square yard if the soil is sandy. If the soil is loamy, clay or peat-heavy, measure 3.6 ounces per square yard.
Mix the sulfur thoroughly with the soil. You can then plant anytime and rest assured that your plants are in soil with the correct pH.