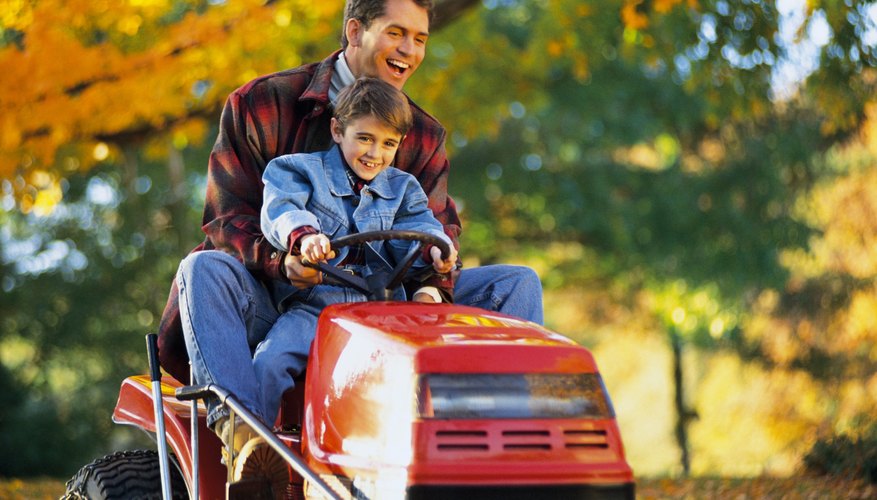 Briggs & Stratton 12-horsepower engines are primarily used as lawn mower engines. When these engines break down, many different things could be wrong with them, because they have so many small mechanical pieces. Be sure to take an hour or longer to fully look over the engine. If you do take the required amount of time, you will find out what the problem is without any outside help, which will save you the expense of hiring a technician to do it.
Find the spark plug along the side of the mower. It is under a black hose and may be on the right or left side, not on the top or bottom of the engine. Pop the hose off the plug and unscrew it with an adjustable wrench. Look for any cracks or clogs, which could cause the plug to not send the spark to the engine, so it will not start. Try to remove any clogs. If you cannot remove the clogs or it has cracks, replace it with a new one.
Unscrew the oil filter, the large cylindrical plastic part on the engine's front. Place the wrench around the filter and twist it counterclockwise. Look for any oil coming out of it. If oil is coming out, it causes the engine to not be fully pressurized, which leads to overheating. Fix this by replacing the filter with a new one.
Locate the air filter under two plastic screws on top of the engine. The air filter allows the engine to breathe, so that it does not get choked with dirty air. If the filter is dirty, try cleaning out with detergent and water. If that does not work, then it needs to be replaced as even a half-clean filter will not function properly.