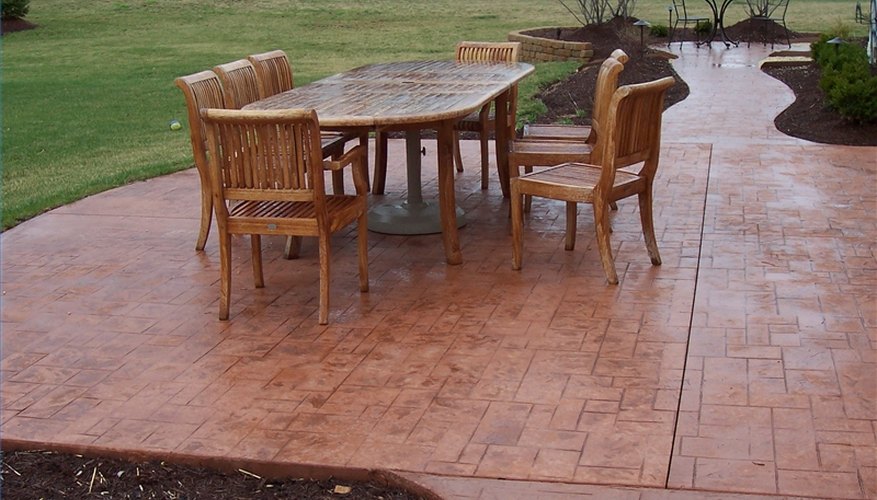 Designing a stamped concrete patio is not all that hard. Many people don't realize that stamping concrete is as simple as paving your surface and simply pressing your design pattern into the cement with pre-made custom cement stamps. If however you need further guidance in designing your stamped concrete patio you can follow along with this guide and make your preferential choices accordingly.
Choose whether you want to apply decorative concrete color to your patio in addition to a decorative stamp. The concrete coloring is usually pressed into the concrete during the process of stamping or stained into the concrete afterwards. If you want your color applied to your stamped concrete patio during the stamping process then you will have to make sure to find a colored release agent for the concrete stamps. If you are fine staining your concrete patio at a later date then you will need to make sure your release agent does not change the color of the cement surface of your patio.
When stamping the surface of a concrete patio or any other cement surface you need to decide on the design of your cement stamps. Most home stores have a collection of stamp designs which come on square mats which are used to stamp the design onto your cement surface. A proper stamped concrete patio must be designed around the purpose of the patio. Make sure to select a stamp design that is functional for the patio in question. For instance; if the patio is near a pool you may wish to design a stamp design which aims to improve traction for while a stamped concrete patio elsewhere may be better suited for aesthetics or artistry.
Consider all the other elements of a well designed patio area. A better patio design will incorporate colored and stamped concrete with other landscaping elements such as landscape lighting and garden design. If you are designing a stamped concrete patio make sure to build in raised garden areas and flower beds into the design to make the patio more interesting and developed. You may also wish to choose your cement stamp pattern to compliment the foliage you will include in your patio landscaping.
Don't forget to design adequate furnishings to your decorative concrete patio. Popular furnishings can include decorative and functional patio furniture, such as tables, chairs, benches, and raised fir pits. Another favorite inclusion to any stamped concrete patio may be to include a garden swing chair. You want to make sure you choose furnishings that match your stamped concrete design and choose a color palate that compliments the coloring of your decorative concrete patio.