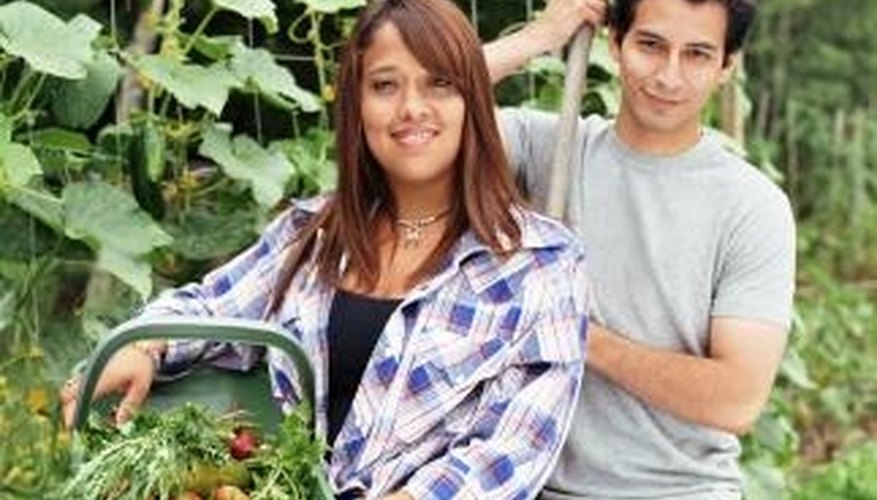 Growing vegetables in your own backyard garden will save money on your grocery bill, but there are many other benefits as well. These include the gratification of watching the plants develop, the ability to grow hard-to-find varieties and immediate access to fresh-picked vegetables you can eat right off the vine or use in your favorite dishes. Before you ever sow your first seed, take the time to properly plan your garden to ensure a bountiful harvest.
Find a location to start your garden that is away from trees, shrubs and any structures that would block the sunlight. Pick an area with full sunlight and rich, loose, well-drained soil. Choose a garden site that is level and both near your house and a water supply. The more convenient it is to your house, the more likely you will maintain the garden regularly.
Make a list of the veggies you would like to grow in the garden that includes the number of plants, planting dates, days to harvest and spacing requirements of each. If this is your first garden, it is better to plan a small garden so you don't become inundated with maintenance. Get in touch with a garden center or extension office to find out what specific vegetables grow best in your area.
Create a drawing of the garden and mark the location of the veggies you selected on it. Allow room for accessing all the rows and place taller vegetables on the outer northern edge to prevent shading other plants. List the smallest vegetables on the southern side and make note of any supports needed.
Clear the garden area of all foliage as soon as you can work the soil in the spring. Use hand tools or a mechanized tiller to break up the soil.
Enrich the soil with a 3-inch layer of organic matter, such as compost and manure. Mix the organic matter well into the top 6 inches of soil and then rake the area level. Install any supports required in the designated spots.
Obtain vegetable seeds or transplants from a reliable source, such as a nursery, garden center or online store with a trustworthy reputation. Dampen the soil and then plant seeds at the spacing and depth recommended on the packets. Dig holes the same depth of the containers for veggie transplants and then soak each plant well to settle them in place.